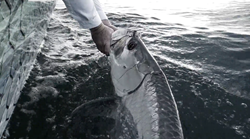 TackleDirect is excited to partner with Stellwagen Media on their film series, The Migration. Both the storytelling and production quality are world-class.
Egg Harbor Township, NJ (PRWEB) August 06, 2015
TackleDirect, the world's premier fishing outfitter, and Stellwagen Media, fishing's leader in branded content, have announced the launch of TackleDirect's proprietary web-based film series, The Migration. Centered on Florida's tarpon migration, The Migration combines best-in-class content with TackleDirect's robust inventory to entertain and outfit the passionate angler.
"TackleDirect is excited to partner with Stellwagen Media on their film series, The Migration. Both the storytelling and production quality are world-class. Our passionate anglers that shop with us from around the world will certainly be inspired by their work." said Patrick Gill, CEO and Co-Founder of TackleDirect, "The Stellwagen Media team are highly talented film developers. By combining epic angling footage with great writing, an original music score, and succinct editing, The Migration will resonate with an audience that appreciates their style of work as much as we do."
More than just entertainment, The Migration educates anglers and enables them to perfectly outfit themselves for the cutting edge methods showcased in the series.
"We believe that TackleDirect empowers passionate anglers to pursue their dreams," said Jay Shields, President and Founder of Stellwagen Media, "TackleDirect has long been at the forefront of innovation within the fishing industry, and we are elated to partner with them for the delivery of The Migration. This forward thinking approach, combined with their highly robust inventory of high-end tackle and world-class service, make this a natural and ideal partnership for a project like The Migration. A fish as canonized, universally loved, and film-friendly as tarpon makes an optimal subject for a brand with a truly global reach. We wanted to create a bespoke series with an appeal as broad as the reach of TackleDirect, in addition to providing production quality equal to that of the gear that they sell."
"Tarpon are unquestionably one of the finest gamefish on the planet," said Jay Shields, President and Founder of Stellwagen Media, "They're big, they pull unbelievably hard, they are explosive, hard to hook, and even harder to keep a hook in. When we conceptualized this project, tarpon were a natural subject. Their lore is unrivaled, their place in the history of our sport unparalleled, and they are the most film-friendly subject we have. Our friends, the Holeman brothers, have been at the forefront of developing a unique, frighteningly effective method utilizing large softbaits. Fishing with Travis Holeman really enabled us to both convey the majesty of these creatures and bring to light a nascent method that is at the absolute cutting edge of their fishery. We were also extremely fortunate to be there for a phenomenal worm event, which led to some of the most jaw dropping footage I have ever seen. All of us at Stellwagen are very proud of this project and cannot wait for people to see it."
The web-based film series premiered Thursday, July, 16th at the International Convention of Allied Sportfishing Trades (ICAST) and is available exclusively at http://www.tackledirect.com/themigration. Episode 2 premieres Thursday, August 6th with subsequent episodes released weekly. A full press kit, with digital assets for download, can be viewed at http://tdire.co/PressKit.
About Stellwagen Media
Stellwagen Media is an industry leader in standout content creation and intelligent distribution. Founded in 2014, Stellwagen Media has achieved rapid growth while redefining successful number benchmarks in viewership for its clients. Through their accessibly intelligent, best-in-class content and highly customized, client-specific, unique implementation strategies, Stellwagen Media has firmly positioned itself as both a content and strategy leader in the fishing industry. Learn more at http://www.stellwagenmedia.net
About TackleDirect
TackleDirect is part of the eCommerce Outdoors network of specialty stores and is headquartered in Egg Harbor Twp., NJ. eCommerce Outdoors is a direct marketing company and multi-channel specialty retailer that operates two physical retail store locations in Southern New Jersey and seven online stores that sell outdoor products to consumers throughout the USA and the globe. Their first eCommerce store, http://www.TackleDirect.com, World's Premier Fishing Outfitter, began in 1997 and is a growing leader in the online sporting goods category, ranking in the top 500 largest e-commerce sites in North America. TackleDirect stocks and ships over 55,000 outdoor products from 600 premium brands to over 200 countries worldwide from their Egg Harbor Township, NJ location.
Learn more and shop online by visiting: http://www.TackleDirect.com.