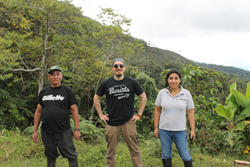 We've built our Friend2Farmer direct trade program on personal relationships. By traveling to meet with coffee farmers, we develop a better understanding of growing conditions and community needs.
Columbus, Ohio (PRWEB) August 06, 2015
Coffee buyers from Columbus, Ohio coffee roaster Crimson Cup Coffee & Tea recently traveled into Peru's Andes Mountains to source new coffee and develop relationships with local coffee farmers. Visits resulted in stronger ties with the producers of its Finca Santa Rosa coffee and discovery of new Friend2Farmer offerings from two small growers.
"We've built our Friend2Farmer direct trade program on personal relationships," said Crimson Cup Founder and President Greg Ubert. "By traveling to meet with coffee farmers, we develop a better understanding of growing conditions and community needs."
Crimson Cup developed its Friend2Farmer direct trade program to ensure that farmers receive a fair share of proceeds from coffee sales. The company pays an above-market premium to farmers, who can then invest in agricultural and community improvements. Crimson Cup coffee experts also collaborate with farmers on ways to improve the quality of the coffee and quality of live for farmers, workers and their communities.
Coffee buyers Dave Eldridge and Brandon Bir, along with Customer Growth Specialist Taylor Harvey, began their trip on Finca Santa Rosa near the small town of Villa Rica. This farm is owned by third-generation grower Selena Contreras Obregon.
Established by Contreras' grandfather in 1927, the 104-acre, Rain Forrest Alliance-certified farm grows catuai, caturra, bourbon, typica and geisha varietals under a canopy of indigenous trees at an elevation of 1,600 meters. The farm produces about 750 bags each year of hard beans, which yield a super clean cup with notes of caramel, honey and cocoa. The coffee also displays nutty notes and mild citrus acidity in the finish.
"Selena and her farm continue to impress us with their passion for quality coffee and dedication to progress in every aspect of operations," Bir said. "Last year, we talked with them about the importance of improving their drying operations and helped them build a new drying bed. This year, they built enough raised beds to fill the entire second floor of their barn, which will help to expedite and control the drying process."
The passion for improvement has extended to participation in a research by Lucas McClish, an environmental science student intern from The Ohio State University. Accompanied by the Crimson Cup team, McClish took soil samples on Finca Santa Rosa and nearby farms for a study that seeks to link soil conditions such as levels of nitrogen and potassium to the quality of coffee.
"Connecting small coffee farmers with the rich resources of The Ohio State University is one of the ways in which we're helping to improve the quality and sustainability of coffee farming," Eldridge said.
After Finca Santa Rosa, the Crimson Cup team visited a coffee warehouse in La Merced operated by Julio Arevalo Tello, who processes beans for a number of small-plot growers. There, Eldridge and Bir cupped beans from a number of local farms. They also purchased cascara and cacao beans from Arevalo. Cascara, which means "husk," "peel" or "skin" in Spanish, is the dried skins of coffee cherries, which are collected after the beans have been removed and dried in the sun.
"We plan to introduce cascara tea to Crimson Cup customers later this year," Bir said. "The cacao beans will be used in various infusions of our popular Nitro cold brew coffees."
During cupping at the warehouse, two samples that stood out came from the farms of agronomist Nilda Barbosa Choque and her father, Pedro Cahuana Cconocc. The following day, the team visited both farms.
"Nilda's farm was beautiful, with well-organized plants and shade trees on the mountainside," Bir said. She and her husband had reforested much of their farm and had cleared and flattened some land to build a solar drier.
"They need a micro-loan to purchase the building material, and we're interested in helping bring this project to fruition," Eldridge added.
Like his daughter, Cahuana had invested in reforesting his farm, even taking some land out of production to establish shade trees. He was also growing a new varietal, Mondo Apache, which is a cross between Mondo Nuevo and Apache.
"This new varietal produced some of the best coffee we've cupped in Peru," Eldridge said. "We're eagerly anticipating the arrival of micro-lots from both farms at our Columbus roasting headquarters in August."
About Crimson Cup Coffee & Tea
Since 1991, Crimson Cup Coffee & Tea has hand-roasted specialty coffee in Columbus, Ohio and taught independent business owners how to be successful through its coffee shop franchise alternative program, which includes a coffee shop business plan template. Sustainably sourced Crimson Cup coffee is available through a network of more than 350 independent coffee houses, grocers, college and universities, restaurants and food service operations across 29 states, Guam and Bangladesh, as well as the company's own Crimson Cup Coffee Houses in the Columbus suburbs of Clintonville and Upper Arlington. For more information, visit crimsoncup.com.