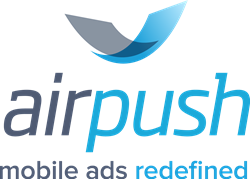 Los Angeles, CA (PRWEB) August 06, 2015
Airpush (http://www.airpush.com), the leading mobile advertising platform ranked #2 on Forbes' 2014 list of America's Most Promising Companies, has been awarded 'Marketing Department of the Year' (Gold) as well as 'Most Innovative Product of the Year' (Bronze) by the 2015 Best in Biz International Awards. This continues Airpush's impressive collection of awards, including being named #1 on the Tech 200 List as well as 'Top Innovator in Advertising Data' by DataWeek.
Abstract Banners, one of Airpush's flagship products, are a true paradigm shift in the mobile advertising industry. Traditionally, mobile advertising has been confined to three main categories: low performing static banners, expensive rich media interstitials, or time consuming and inflexible video ads. Abstract Banners use HTML5 combined with proprietary technology to inject engaging ad content over app and mobile web inventory. This reduces 'banner blindness' while increases user engagement and campaign ROI.
Abstract Banners are included in Airpush's new Performance Creative Initiative and therefore advertisers receive their design free of charge by experienced mobile creative designers. In addition to free creative design, the program gives mobile advertisers access to media buying and real-time campaign optimization services that communicate and evolve throughout the life of the campaign, dramatically increasing performance by as much as 300% as well as reducing overall cost to the client by up to 70%.
Airpush's Marketing Department was also recognized with a Gold Medal for 'Marketing Department of the Year.' This was the result of close analysis of Airpush's rise to a premier provider of cutting edge mobile advertising solutions, and the marketing department's role in powering it. Full reviews were conducted of digital content production, B2B and B2C strategies as well as the company's impressive footprint in the media and at events around the world. The judges, who included esteemed journalists from premier publications such as ARD, BBC Radio, InBusiness, Jerusalem Post, Technorati, MediaPost, and The Vancouver Sun recognized that Airpush had moved from a startup, single ad-unit provider to a dominant player with deep penetration of diverse product offerings and that the marketing department had played an untraditionally significant role in the success.
"I have always known that we were building something great here at Airpush," explains Cameron V. Peebles, Airpush's Chief Marketing Officer. "This recognition of both product and go-to-market strategy by the Best in Biz judging panel is a huge validation of what we have been working on for the past four years."
"Best in Biz is one of the most competitive business awards operating today," Airpush Founder and CEO Asher Delug said of the awards. "Although I've always had an incredible amount of confidence in our products and the world-class marketing team that brings them to market, it's great to see this is recognized by distinguished judges around the world."
More than 250 public and private companies representing all sectors of the global economy from more than 30 countries competed in Best in Biz Awards' third annual International program. Best in Biz Awards' uniqueness stems, in part, from the composition of its judging panel. Only writers, journalists, and contributors to business, consumer, financial, trade and technology publications, as well as broadcast outlets and analyst firms are invited to serve as judges each year. Structured this way, Best in Biz Awards are able to leverage the experience and expertise of an influential group of global opinion makers to determine award winners.
For a full list of gold, silver and bronze winners in Best in Biz Awards 2015 International, visit: http://intl.bestinbizawards.com/intl-2015-winners.
About Best in Biz Awards
Now in its fifth year, Best in Biz Awards recognizes top companies, teams, executives and products for their business success as judged by established members of the press and industry analysts. Best in Biz Awards honors are currently conferred in two separate programs: North America and International. Entries for Best in Biz Awards 2015 are currently being accepted from all companies based or operating in North America until the final deadline on September 18, 2015. For more information, visit: http://www.bestinbizawards.com.
About Airpush
Ranked #2 in the 2014 Forbes list of "Most Promising Companies" and winner of the "Top Innovator in Advertising Data" award at the 2014 DataWeek Conference, Airpush is on a mission to redefine mobile advertising. More than 150,000 apps and the world's leading advertisers rely on Airpush to deliver the industry's highest performance, driven by exceptional ad formats and targeting technology. Founded in 2010 by mobile advertising veterans, the company has approximately 250 employees and offices in Los Angeles and Bangalore, along with sales regions in all major markets. For more information, visit http://www.airpush.com or follow us on Twitter @AirpushAds.