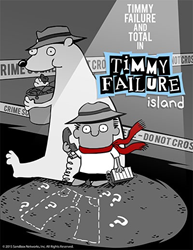 This endearing cast of characters and hilarious whodunit story are the perfect fit for our new Poptropica Island.
BOSTON, Mass. (PRWEB) August 06, 2015
Kids around the world will get a sneak peek of Poptropica's upcoming new quest with today's debut of Main Street on "Timmy Failure Island." Between now and the September launch of the full Island for Poptropica Members, players can check in every day to see Timmy Failure come alive in full color for the first time and discover prizes and other surprises.
Created by "New York Times" best-selling cartoonist Stephan Pastis, Timmy Failure is a clueless, comically self-confident kid detective. When kids explore Timmy's new Poptropica Island, they will see that danger lurks and criminals hide around every corner. To solve this mystery, they are going to need to the best detective money can buy. That detective is not Timmy Failure – but don't try to tell him that. In this new book-based quest, Poptropica Players will come face-to-face with the craziest cast of characters ever to appear on a Poptropica Island.
"Timmy is always confident in his abilities to solve a mystery – but in truth, he is not smart and can't solve a thing," said his creator Pastis. "It will be so exciting to see Timmy and his polar bear Total come to life on Poptropica."
As they anxiously await the launch of the full Island, kids visiting the Main Street of "Timmy Failure Island" will discover Island costumes, free credits, a free Timmy Failure Island printable poster, multiplayer rooms and more.
"When kids visit 'Timmy Failure Island' Main Street, they will get their first look at the bumbling antics of their favorite kid detective, Timmy Failure, in full color," said Jeff Kinney, Poptropica creator and author of the bestselling "Diary of a Wimpy Kid" series. "This endearing cast of characters and hilarious whodunit story are the perfect fit for our new Poptropica Island."
Hundreds of millions of kids have visited Poptropica since its launch nearly eight years ago, and the number grows every day. Poptropica players come from more than 200 different countries and territories and have their web browsers set to more than 100 different languages.
Kids can stay up to date on news about upcoming new Islands and other exciting developments in the world of Poptropica on the official Poptropica blog. Parents can keep up to date on new Island releases and features on Poptropica by following the Poptropica Creators on youtube.com/poptropicacreators, facebook.com/OfficialPoptropica, plus.google.com/+poptropica, or at Twitter.com/poptropica.
About Poptropica (http://www.poptropica.com)
Poptropica is a virtual world available for desktop, Apple and Android devices, in which kids explore and play in complete safety. Every month, millions of kids from around the world are entertained and informed by Poptropica's engaging quests, stories and games.
Kids create a "Poptropican" character to travel the many Islands of Poptropica and use gaming literacy to enjoy a narrative that is often rooted in factual history. Problem-solving skills are honed as kids discover and solve mysteries unique to each Island. Kids can also unleash their imagination with Poptropica Realms. They can build, destroy, and create Realms of their own design which they can share with the Poptropica Creators.
There are always new areas to explore in this ever-expanding world where kids can collect objects, read digital books and comics, watch movies and compete in head-to-head competition. Parents can always trust that their children are playing – and learning – in a safe online and mobile environment.
Poptropica is part of Family Education Network, a division of Sandbox Networks, Inc.
Apple is a trademark of Apple Inc., registered in the U.S. and other countries.
Android is a trademark of Google Inc.