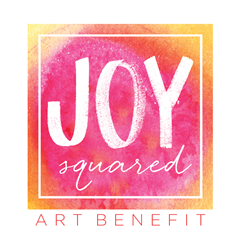 We believe everyone is an artist and that art truly makes a difference. We're looking forward to seeing all the unique art that's created for this event, and we can't wait to share it with the community.
Horsham, PA (PRWEB) August 06, 2015
Joy will multiply exponentially as the community gathers at The Scatter Joy Center for the Arts (SJCA) for the Joy Squared Art Benefit. The event will be held September 25, 2015, from 5-8 PM at SJCA headquarters, 305 Horsham Road, Horsham, PA 19044.
The highlight of the event will be Joy Squared, an art exhibit composed of dozens of six-inch canvas art squares created exclusively for the event by regional artists. At the Benefit, which will be open to the public, attendees will have the opportunity to view all of the "Joy Squares" and bid on any that appeal to them in a Silent Auction, with opening bids of $25. In addition to the individual Joy Squares, two large art mosaics composed of squares created by the artists of Kathy Davis Studios will be auctioned off separately. All proceeds will support SJCA programming and scholarships.
Artists – professional and amateur – are invited to pick up a blank canvas "Joy Square" from the SJCA starting August 7, 2015, Mondays through Fridays from 9 AM – 5 PM, and return a completed work of art on or before Friday, September 14. The "Joy Square" canvas will be provided free of charge, and the finished art will be donated to the SJCA for the purposes of fundraising during the event and beyond. Artists will find additional details about the process of submitting "Joy Squares" here. In lieu of art submissions, monetary donations to SJCA will be gratefully accepted at the Center, by mail or through our website by clicking on the Get Involved tab.
A full evening is planned for the Joy Squared Art Benefit, which is actually a family affair. In addition to the gallery exhibit and silent auction, the Benefit will feature SJCA's third annual family Chalk Art activity, as well as the grand re-opening of the Kathy Davis retail store with its fresh new look. The event kicks off a new initiative of supporting community arts while continuing the year-long celebration of entrepreneur Kathy Davis' 25 years of "Joy Through Giving."
"We're so excited about the Joy Squared Art Benefit," says Kathy Davis, founder of the Scatter Joy Center for the Arts. "We believe everyone is an artist and that art truly makes a difference. We're looking forward to seeing all the unique art that's created for this event, and we can't wait to share it with the community."
"We're hoping all the artists and lots of folks from the community will join us for this great event," says Bill Lessa, Executive Director of the SJCA. "We hope to raise funds and awareness at the same time. We're still a fledgling organization, and this will be an important step towards our mission to give back to the community by supporting the arts."
About the Scatter Joy Center for the Arts (SJCA)
The Scatter Joy Center for the Arts, based in Horsham, PA, is built on the simple belief that Art Makes a Difference. As the realization of a long-time dream of Kathy Davis, CEO and Chief Visionary Officer of Kathy Davis Studios, this non-profit art center enhances the arts and culture for people of all ages within our extended community. The aim of the Scatter Joy Center for the Arts is to "give back" in a meaningful way and promote caring and giving through its programming. The philosophy of the Scatter Joy Center for the arts is to Scatter Joy – Joy Through Art, Joy Through Living, Joy Through Giving. Visit us at http://www.scatterjoyarts.org