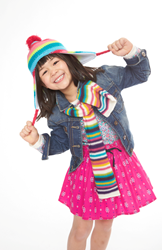 Milwaukee, Wis. (PRWEB) August 06, 2015
The Bon-Ton Stores, Inc. (NASDAQ: BONT) which operates Bon-Ton, Boston Store, Bergner's, Carson's, Elder-Beerman, Herberger's and Younkers stores, announces 2015 Back-to-School fall fashion and a kids' fest event at all stores on Saturday, Aug. 8.
Get ready for school and head back to class with all the essentials. Use this checklist to earn high marks on fall fashion for girls and boys of all ages at Kids' Fest:
Back to School Fashion Checklist

Mix & Match: Make it easy with mix & match stylish outfit options and perfect pairings for every day of the week
Graphic Tees: Choose fun tees with your favorite characters, designs and messages
Denim: A variety of washes, cuts and colors plus the popular destructed denim and new knit waistbands
Plaids and Buffalo Checks: You'll find this popular trend in a variety of colors in tops, skirts and leggings
Comfort Bottoms: Colorful printed leggings, knit drawstring waistbands and soft maxi print skirts for girls
Flannel: Stay warm this fall with flannel lined pants, layered tees or hoodies for boys
Activewear: New sporty colorful styles, perfect for school and everyday
Layered Tops: Fashionable ponchos and scarf tops for girls
Boho: Girls love the trendy fringe, patterns and embellishments for a fun casual back to school look
Perfect Uniform: Make the grade and shop online at http://www.bonton.com for a stylish selection of school uniforms
Select from some of the following stylish quality brands: Adidas, Carters, Celebrity Pink, Chaps, Jessica Simpson, Lee, Levi's, Little Miss Attitude, Nike, OshKosh B'Gosh and Ruff Hewn.
Kids' Fest
Stock up on the latest Back-to-School fashion apparel at Kids' Fest on Saturday, August 8 from 11 a.m. to 3 p.m. Parents can take advantage of the great savings on our incredible selection of Fall styles during the Super Saturday Sale, while kids enjoy a fun and festive environment which includes: craft table with art projects, coloring station, prizes and giveaways. Kids will also have the opportunity to participate in a fashion show parade with their newly purchased Back-to-School outfits!
Find your nearest Back-to-School headquarters and shop the latest fashion trends at http://www.bonton.com/BackToSchool. You can also enter for a chance to win an iPad Mini® and a $250 shopping spree online now through Monday, Sept. 7.
About The Bon-Ton Stores, Inc.
The Bon-Ton Stores, Inc., with corporate headquarters in York, Pennsylvania and Milwaukee, Wisconsin, operates 270 stores, which includes nine furniture galleries and four clearance centers, in 26 states in the Northeast, Midwest and upper Great Plains under the Bon-Ton, Bergner's, Boston Store, Carson's, Elder-Beerman, Herberger's and Younkers nameplates. The stores offer a broad assortment of national and private brand fashion apparel and accessories for women, men and children, as well as cosmetics and home furnishings. The Bon-Ton Stores, Inc. is an active and positive participant in the communities it serves.
For store locations and information visit http://www.bonton.com. Join the conversation and be inspired by following Bon-Ton on Facebook, Twitter, Instagram, Pinterest and the fashion, beauty and lifestyle blog, #LoveStyle.
###