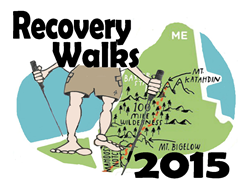 'If all these people can recover, so can I'.
Hartford, CT (PRWEB) August 11, 2015
Connecticut Community for Addiction Recovery (CCAR) is proud to host the 16th Annual Recovery Walks in Connecticut. The celebration will be on Friday, September 18th from 10:00 a.m. till 2:00 p.m. in Bushnell Park, Hartford.
Recovery Walks! is a community celebration of recovery from alcohol and other addictions; and we invite recovering people, families, friends and supporters to join us in the park. In addition to the walk, participants will share in activities and a program filled with the energy and strength of recovery. The event will host live music by Shaded Soul, activities for children, exhibits, Faces of Recovery photo display, advocacy materials, food and more.
CCAR expects a large turn out from participants across the state as well as national media, to showcase recovery in front of Connecticut's state capitol. Special guests this year include Mark Zinni from Channel 3 Eyewitness News and Department of Mental Health and Addiction Services Commissioner Miriam Delphin-Rittmon.
Phillip A. Valentine, Executive Director of CCAR and person in recovery since 1987, said, "At our first walk in 2000 we hoped for 50 people to attend. Amazingly, 700 persons in recovery, friends, families and the public showed up". Just by attending, everyone at the walk proclaims the message of hope to the person new in recovery that 'if all these people can recover, so can I'.
Recovery Walks! is being held during National Alcohol and Drug Addiction Recovery Month, and is one of many nationwide "Rally for Recovery" events scheduled for September. These events offer the opportunity for those in recovery to register to vote, speak with elected officials, and celebrate their growing visibility.
All are welcome to attend the 16th Annual CT Recovery Walks! For more information please visit: http://ccar.us/#events.
Since 1998 the Connecticut Community for Addiction Recovery (CCAR) has organized the recovery community (people in recovery, family members, friends and allies) to put a face on recovery and to provide recovery support services to help sustain recovery. By promoting recovery from alcohol and other drug addiction through advocacy, education and service, CCAR strives to end discrimination surrounding addiction and recovery, open new doors and remove barriers to recovery, maintain and sustain recovery regardless of the pathway, all the while ensuring that all people in recovery, and people seeking recovery, are treated with dignity and respect. CCAR envisions a world where the power, hope and healing of recovery from alcohol and other drug addiction is thoroughly understood and embraced. For more information, visit http://www.ccar.us.