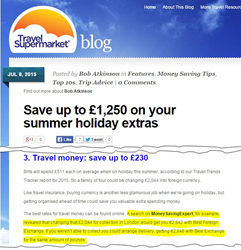 Travel Supermarket suggests that travelers based out of London will be better off by ordering travel money by post from BestForeignExchange.com
London, UK (PRWEB UK) 14 August 2015
As demand for the Euro surges with the most attractive exchange rates over peak holiday season, people are looking for advice on how to make the most of their travel money. In an article posted on July 8th to Travel Supermarket's blog site, the travel specialist provided people with money saving tips on how to, "Save up to £1,250 on (your) summer holiday extras." In the post, Travel Supermarket gives recognition to BestForeignExchange.com for having the best travel money exchange rate in-store–as well as through its delivery service.
Foreign currency specialist BestForeignExchange.com was named for its competitive exchange for the Euro–just as British travellers gear up to purchase the currency with record high exchange rates for the summer holiday season.
The article reports that British travellers are anticipated to spend an average of £511 on travel money this summer and as such, a family of 4 could save over £230 by purchasing the currency from BestForeignExchange.com in comparison to the rate offered at the Moneycorp desk at Heathrow Airport.
Travel Supermarket suggests that travellers based out of London will be better off by ordering travel money by post from BestForeignExchange.com
"We are very proud that Travel Supermarket endorsed our fantastic rates that we provide to our customers," said Trevor Samuel, Senior manager Business Development of BestForeignExchange.com, an entity of Thomas Exchange Global. "We strive to provide travellers with the best service possible so they can avoid paying high bank charges while they are enjoying their holiday."
In addition to the Euro, the exchange rates of many other European currencies–such as the Danish, Norwegian, Swedish and Czech bank notes–are very attractive during this time of the year.
Samuel believes that BestForeighExchange.com is different from many providers because it maintains a transparent policy in pricing and does not charge any commission on travel money.
"Many service providers levy various charges on bank cards that holiday travellers are often unaware of until they receive their monthly bank statement, by which point it's too late," concluded Samuel. BestForeignExchange.com does not charge any commission on the buying or selling of foreign bank notes, and all of its rates are displayed in real-time at each of their store locations in London.
About BestForeignExchange.com:
Owned and operated by Thomas Exchange Global, BestForeignExchange.com offers the most competitive exchange rates in London and customers that reserve currencies online will be assured the same exchange rate until close of business on the particular day despite any adverse fluctuations. They stock the widest range of foreign currencies in London with over 120 types of foreign bank notes. All foreign currency buy/sell transactions are free of any commission or charges.
Thomas Exchange Global also offers International Money Transfer Service where funds can be remitted to overseas bank accounts within one to two days. With commission free service for transfers over £10,000 backed by competitive exchange rates, customers are assured of a better deal and a substantial saving compared to banks and money brokers. Thomas Exchange Global branches are located at Strand, Embankment, Victoria Street, Victoria Place (Victoria rail Station), Liverpool Street, Hammersmith, Wormwood Street, Cannon Street, Canary Wharf, Hammersmith, High Street Kensington and Richmond.