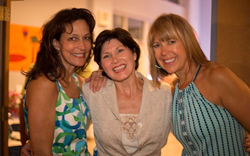 League City, TX (PRWEB) August 10, 2015
The Greater Houston community made a splash for a worthy cause June 25, at the 12th Annual Yawl Ketch the Spirit… of Devereux fundraiser.
Chaired by Marsha Cottle and Diane Morris, the nautical-themed evening at League City's South Shore Harbour Resort featured a delicious served dinner, dancing to music by The Navigators and fantastic live and silent auctions. Proceeds benefit the long-term hospitalization and intensive residential programs for adolescents in Devereux's care.
The event's 2015 sponsors included Butler's Courtyard, Houston Methodist St. John Hospital, MaximGroup, ACU of Texas, GeoSury LLC, Marina Bay Dental, Top Gun Security and Investigations, Paulette and Paul Pribyl, AMOCO Federal Credit Union, Shreves Insurance Agency, and South Shore Harbour Resort.
Devereux Texas Executive Director Pamela Reed thanked all those who volunteered their time and energy to make the evening possible.
"We are humbled by the outpouring of love and support our community continues to show Devereux," she said. "We work each and every day to inspire hope and empower the lives of those individuals in our care — some of the most vulnerable members of society. With your help, we can and will make a difference."
For more information about Devereux Texas, call 281.316.5423 or visit devereuxtx.org.
About Devereux Texas:
Devereux Texas is part of a leading national nonprofit organization that specializes in the care of children, adolescents and adults experiencing a wide range of behavioral, emotional and mental health disorders. Texas services include: long-term hospitalization and intensive residential services for adolescents; residential services for children and adults; and foster care services for birth to 18 years of age. For more information about Devereux Texas, please call Joni Robertson, director of development at 281.316.5423 or visit http://www.devereuxtx.org.