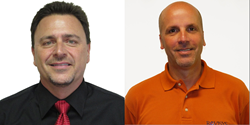 The appointment of co-presidents is an important step for the ongoing growth and success of the company
(PRWEB) August 14, 2015
RoviSys, a leading independent provider of comprehensive process automation solutions and services based in Aurora, Ohio, announces the appointment of John Turk & Joe Maukonen as co-presidents of the company. The positions of these experienced executives were elevated in order to align the company for continued growth and as acknowledgement for the successful accomplishments of prior growth and business development.
Founded in 1989, RoviSys has over 25 years serving the process automation market with a focus on long-term relationships and customer satisfaction. Steady growth and expansion of business objectives has grown the company to over 500 employees with offices across the U.S. and in Southeast Asia.
John Turk joined RoviSys in 1990 as a systems engineer and worked as leader and Director of the RoviSys Life Sciences group for 15 years. His success on numerous control systems projects has built a solid foundation for the project execution methodologies at RoviSys and has resulted in strong vertical growth.
Joe Maukonen joined RoviSys in 1991 after engagements in Rockwell Automation distributor sales and as a plant engineer at Manville Corporation. He has an exciting a record of successfully growing customer accounts, setting new direction for software and business intelligence teams, and initiating overall growth.
The appointment of John Turk and Joe Maukonen as co-presidents is an important step for the ongoing growth and success of the company," said John Robertson, CEO. "I am confident in their ability to take advantage of new opportunities, to serve our customers and drive RoviSys forward."
About RoviSys
The RoviSys Corporation provides resources, experience and skills to solve and support process automation and integration challenges, with 25 years of real solutions for the Chemical, Petrochemical, Life Science, Consumer Packaged Goods, Glass, Metals, Power & Energy, Water & Wastewater, Paper & Wood and Oil & Gas industries. For more information visit http://www.rovisys.com.