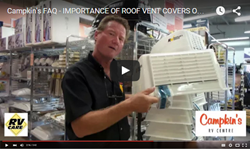 Videos are the only way to bring our products to life on the web, and they are becoming so popular that we are launching new initiatives as fast as we can
Whitby, Ontario (PRWEB) August 13, 2015
A recent report from Cisco Systems Inc suggests that video will be responsible for four-fifths of global internet traffic by 2019. It already accounts for over 60% today, and is the preferred online medium for product research by consumers.
Campkin's RV Centre is therefore announcing an increase in the amount of product reviews, trailer walk-throughs, FAQ videos and factory tours added to their YouTube Channel this summer.
With over 100,000 views on their YouTube Channel to date, Brad at Campkin's RV Centre is on a mission to launch new videos every day. The Campkin's website is completely video-optimized, and many of their campers and trailers in their inventory section already have informative walk-through videos. Customer questionnaires found that many who purchased RVs from Campkin's watched the videos on the website and were impressed enough to take the next step in the purchase cycle by visiting the dealership in person.
"Videos are the only way to bring our products to life on the web, and they are becoming so popular that we are launching new initiatives as fast as we can," says Brad. For instance, the staff at Campkin's are now releasing FAQ videos in an effort to assist the public by answering some of the many common questions new RV owners have. Another new video initiative is product reviews, so now staff can talk openly about some of the better products and accessories on the market today. These video initiatives are an effort to offer value to the consumer, to engage viewers in an educational setting on their own time, and without the pressures of sales staff.
To find these videos there are multiple options. You can visit the Campkin's website and check the News section or the Inventory regularly, or else subscribe to the Campkin's YouTube Channel and receive notifications when new videos are uploaded.
In conclusion, Campkin's RV Centre is very excited to be developing video that benefits the RV consumer, and hopes that their YouTube Channel continues to grow in popularity with new uploads and playlists added daily.
For more information, please visit: http://www.campkins.com
About Campkin's RV Centre:
Always an early adopter, the Campkin's brand has a history of experimenting with internet marketing trends and advertising best practices in an effort to present an honest and fair profile for RV enthusiasts across Ontario. "Our policy is transparency in pricing, the presentation of rich media so the customer can make their own decisions without the need for a salesperson and, of course, great customer service after the sale," says Roland, the owner and President of Campkin's RV Centre.