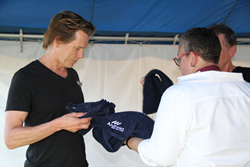 Suitland, Maryland (PRWEB) August 12, 2015
Andrews Federal Credit Union sponsored the second in a series of summer concerts offered by the 87th Force Support Squadron at Fitness and Sports Center on Joint Base McGuire-Dix-Lakehurst (JBMDL).
The "24th of July Party" featured free live music from the Bacon Brothers, as well as Philly-style foods, including cheesesteaks, hoagies and soft pretzels. Thousands of people from JBMDL were once again in attendance.
"We pride ourselves on giving back to the community we serve on base," said Andrews Federal Credit Union's Maree Duncker, Regional Branch Manager, JBMDL. "It was great to be able to share the benefits of credit union membership, as well as enjoy great music all in the same day. Not only are the Bacon Brothers great musicians, they are also two really great guys."
About Andrews Federal Credit Union
Andrews Federal Credit Union was founded in 1948 to serve the needs of military and civilian personnel by providing a vast array of financial products and services. With over $1 billion in assets, Andrews Federal has grown to serve more than 113,000 members in the District of Columbia, Joint Base Andrews (MD), Springfield, Virginia (VA), Joint Base McGuire-Dix-Lakehurst (NJ), and military installations in central Germany, Belgium, and the Netherlands. In addition, the Credit Union serves as a financial partner with many select employee groups in Maryland, the District of Columbia, and New Jersey.
To learn more about Andrews Federal Credit Union and its community involvement, or to become a member, call 800.487.5500 or visit http://www.andrewsfcu.org.