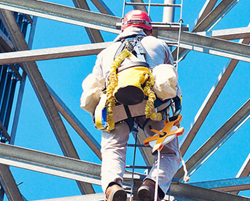 This new patent shows Field Dailies customers innovative technology to seamlessly facilitate the broadest field data reporting solution in the marketplace, CEO Jim Duff
Cincinnati, Ohio (PRWEB) August 12, 2015
Field Dailies, the pioneer and global leader in enabling cloud software solutions for telecommunication carriers, OEMs, and turffing vendors, announced it has received intellectual property protection for its expanded Field Dailies Platform invention in the form of patent U.S. 9,082,095.
The United States Patent and Trademark Office (USPTO) awarded Field Dailies the patent on July 15th, 2015 for the Field Dailies Platform, a software system that supports submission of daily field reports and closeout documentation.
This patent is Field Dailies' first in the US related to the software platform. The new patent, along with the attendant solution, provides further and strengthened protection for Field Dailies systems with regard to various field data collection methods and data formats associated with processing Customer Field Data and enabling reporting methods that use closeout documentation.
Field Dailies Chief Executive Officer Jim Duff said the move will help customers grow along with their business.
"This new patent shows Field Dailies customers that while we offer a time-tested software platform, we're incorporating innovative technologies to ease implementation and seamlessly facilitate the broadest field data reporting solution in the marketplace," Duff said.
"We continue to ensure our customers' field data gets from any place to the right place, the right way. In essence, Field Dailies can provide the solutions our Customers' need — better enabling them to transmit and receive field reporting closeout data in a much more efficient way, and therefore to grow and protect their businesses. The new system and method patent further illustrates the unique position in which Field Dailies holds within its market. Our Customers rely on Field Dailies to provide the most up-to-date technology and to innovate for the future, to keep their businesses running smoothly and securely with the best SaaS platform available. With our industry-leading know-how, including this patent, we continue to build on our technology, improve our Customers' experience and help drive growth to their businesses."
Field Dailies provides simple and powerful field crew management solutions that connects your office and field crews, giving you tighter control over productivity, cash flow, and employees in the field. - See more at: http://www.fielddailies.com