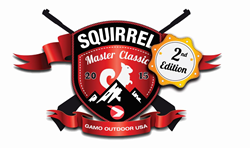 This year response from fans and media to the Squirrel Master Classic was overwhelming- Fedor Palacios, Marketing Communications Manager
Fort Lauderdale, FL (PRWEB) August 12, 2015
The 2nd Annual Squirrel Master Classic was held on Feb. 18th and 19th 2015 hosted by Gamo® Outdoor USA (http://www.gamooutdoorusa.com), the leading manufacturer of high quality air guns, optics and laser designators partnering with Buckmasters organization.
The hunting competition/TV event involved some of the best hunters and hunting personalities from the top hunting TV shows, paired with media members, 4-H kids, and Gamo executives which were divided in 5 teams. Each team was accompanied by a guide an award winning squirrel hunting dog and their handler.
This 2015 Edition Gamo provided to most of the participants the highly-praised "Whisper G2" .22 Cal. by Gamo, which was the one of the 2014 best seller for the high-quality air gun manufacturer. Also, team leaders were treated with the new "Gamo Coyote" PCP Air Rifle .22 Cal which became the absolute favorite among them. Everyone was impressed with their accuracy, near nonexistent recoil, beauty of the stock and how they improved their accuracy with their new SAT trigger technology.
Complete Gamo Prostaff members participating in this event included Michael Waddell, Nick Mundt, Travis "T-Bone" Turner, hosts of the Bone Collector TV Show; Shawn Michaels & Keith Mark from MRA Hunting TV Show; Jackie Bushman from Buckmasters TV Show; Doug Koenig from Doug Koenig's Championship Season; and Kevin Meacham, Keith Burgess, Chris Ashley and Cody Kelley from the new Hardcore TV Show.
The hunt was captured by the Bone Collector, MRA Hunting, Buckmasters, and Doug Koenig TV film crews, and will be broadcasted on national television this spring and the competition is being planned as a yearly tournament. The media members were covering the event through their various media outlets, including social media, newspapers and magazines, blogs, webpages and even radio broadcast.
The episodes of the Squirrel Master Classic are going to be aired on Outdoor Channel and Sportsman Channels, the schedule is the following:
Shawn Michaels MRA Hunting
8/12/2015 at 11:30 ET on the Outdoor Channel
8/15/2015 at 6:00 ET on the Outdoor Channel
8/15/2015 at 9:30 ET on the Outdoor Channel+ repeated airings
The Jackie Bushman Show
8/2/2015 on the Outdoor Channel
11/1/2015 on the Outdoor Channel+ repeated airings
Michael Waddell's Bone Collector
9/14/2015 on the Outdoor Channel + repeated airings
Doug Koenig Championship Season TBD on Sportsman Channel
"We are excited to see how this sequel is going to work out, this year response from fans and media to the Squirrel Master Classic was overwhelming; the main objective is still the same, involve all the participants to showcase the new products, the new technologies and the hunting principles that Gamo promotes, showing all the opportunities and all the fun that hunting small and medium game brings to all the family members, but most important, it was great to see 4-H kids involved in the event, they are the future of this sport and we are going to support them, they have truly became the squirrel masters," said Fedor Palacios, Marketing Communications Manager of Gamo Outdoor USA. "We are going to return next year, bigger and better…"
For press inquiries, please email Fedor Palacios, Marketing Communications Manager at: fpalacios(at)gamousa(dot)com
To stay updated on the latest and greatest from Gamo Outdoor USA please follow us on:
http://www.gamousa.com
http://www.facebook.com/GamoOutdoorUSA
twitter.com/GamoOutdoor
youtube.com/GamoOutdoor
pinterest.com/Gamooutdoor
Gamo Outdoor USA is a leading consumer products company that designs, manufactures and markets a diverse portfolio of outdoor sporting goods products under such world class brands as GAMO®, BSA Optics®, Laser Genetics®, Aftermath®, Joker Knives® and is the exclusive distributor of BSA Guns™.