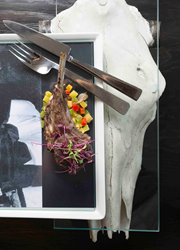 O'Keeffe's visions and sensibilities have helped shape the way I see my homeland and I express this vision through my cooking. -Chef John Rivera Sedlar
Santa Fe, New Mexico (PRWEB) August 12, 2015
Chef John Rivera Sedlar announces the launch O'Keeffe's Table, a five course tasting menu inspired by and dedicated to the great American painter Georgia O'Keeffe. O'Keeffe's Table will be offered nightly during dinner hours from 5:30 p.m. to 9:30 p.m. at ELOISA Restaurant, which opened this spring in Santa Fe, NM. The 90-minute tasting menu includes five courses and must be ordered by the entire table. The menu costs $60 per person with the choice of two supplements: an apricot mignardise and/or mint tea for an additional five dollars each.
Chef Sedlar selected American wines to accompany the menu and guests can customize wine pairings at $30 or a $60 price levels.
Chef Sedlar's connection to O'Keeffe is a personal one; his great aunt, Jeronima "Jerry" Newsom was the artist's chef and sometimes chauffer for fifteen years at her Abiquiu and Ghost Ranch properties in Northern New Mexico. As a boy, Chef Sedlar remembers running through the artist's home and the impression she made on him. "She was always avant-garde," he recalls. "In the 1940s she was making yogurt at home, growing vegetables, and very interested in nutrition long before these things were fashionable."
Equally innovative, Chef Sedlar continues his exploration of food and memory with the debut of O'Keeffe's Table by presentation that is spare and modern communicating both artists' belief in cooking with fresh local ingredients.
Highlights from O'Keeffe's Table include Blue Poppies: Blue Potato Crisps and Trout Caviar; Black Mesa: Seared Venison Loin with High-Desert Ratatouille, and Ghost Ranch: a dessert featuring fresh pueblo peaches and bush raspberries served with honey and cream.
Chef Sedlar collaborated with local artist Larry Swan to create ceramic serving trays and impressive glass and cow skull designed platters on which to present the tasting menu's courses.
"O'Keeffe's visions and sensibilities have helped shape the way I see my homeland," says chef Sedlar, "and I express this vision through my cooking."
For media inquiries, contact:
Audrey Nadia Rubinstein
505 490 1837
audrey(@)jlhmedia(.)com
###
About ELOISA:
ELOISA is chef John Rivera Sedlar's newest restaurant in Santa Fe, New Mexico. The menu marries Latin and Southwestern flavors with regionally specific Northern New Mexican classics. Preparations feature premium, locally sourced ingredients and tasting menus that explore Latin history and local culture. Refreshing cocktails compliment ELOISA's earthy, nourishing menu. ELOISA's warm, inviting design is a place to dine with friends and family. In July, ELOISA was named one of the nation's 21 best new restaurants by Eater.
###
About Chef John Rivera Sedlar:
Critically acclaimed New Mexican born chef, John Rivera Sedlar returned to New Mexican to open ELOISA in Santa Fe this spring. Sedlar is best known for his revered Los Angeles-based restaurants Playa and Rivera. Rivera is slated to reopen at a new and larger space in West LA, Fall 2015. Sedlar is a Latin American food scholar and master chef who has been featured on Bravo television's Master Chef and was named Chef of the Year by Esquire Magazine; additionally, Sedlar wrote the seminal Southwestern cookbook, " A Guide to Modern Southwest Cooking."