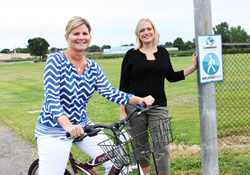 "It helps when your employees see every day that we genuinely care about their overall wellbeing, and it goes without saying that having a healthier workforce, helps us reduce our healthcare costs." Cambridge International CEO Tracy Tyler
Cambridge, Maryland (PRWEB) August 13, 2015
Cambridge International CEO Tracy Tyler today announced the firm's selection as one of 30 finalists for SmartCEO magazine's inaugural Healthiest Company Award. Chosen by an independent panel of Maryland business leaders, Cambridge was chosen for fostering a holistic wellness culture that offers employees a comprehensive, rewards-based program of health care incentives, services and screenings. The company will be recognized on Tuesday, September 29, 2015 at an awards luncheon at The Grand in Baltimore.
"Our inspiration for developing a wellness program in 2010 was simple: To make a difference in the lives of our people," said Tyler. "We wanted to go beyond just creating an environment where people are happy at work, we want to help people become healthier and to lead an overall happier, longer and more fulfilling life."
Tyler went on to explain that the benefits of Cambridge's wellness program have been tremendous; helping the company recruit and retain top talent and increase morale and productivity as people are healthier and feel better about themselves.
"It also helps when your employees see every day that we genuinely care about their overall wellbeing," she said, "and, it goes without saying that having a healthier workforce, helps us reduce our healthcare costs."
Named CEO in 2010, Tyler has emphasized and directed implementation of a proactive, all-inclusive wellness program. Under her leadership, Cambridge achieved significant results in driving down health care costs and increasing employee wellness and retention. The company's integrated program caught the attention of the selection committee who evaluated hundreds of nominations for health care program engagement, effectiveness and ROI.
"Cambridge offers a progressive wellness program to encourage and support employees in making good health choices through awareness and risk management initiatives," said Human Resources Director Heather Hillaert. "This year we introduced our on-site physical program where more than 40 employees have had a physical while at work and received a financial incentive for both the initial exam and a follow up appointment with their primary care provider."
Cambridge's wellness program was founded to motivate and inspire employees to make smarter diet and lifestyle choices; therefore, the company makes it easy and convenient for them to make those choices while at work by offering onsite physicals with financial incentive, annual flu and tetanus shots, farm fresh fruit and vegetable delivery, company bicycles, walking trails and quarterly blood pressure checks.
"We also want to create good, long-term habits, so we educate with consistent, repetitive messages," said Tyler, noting a smoking cessation program and diabetes academy as two examples. She further emphasized that getting well – and staying well — can also be fun. The company creates competitions, contests, and drawings with incentives and prizes such as our annual weight loss contest.
Under Tyler and Hillaert's leadership, the company implements additions, changes and upgrades every year to make the wellness program more robust and effective.
"Due to the incentives offered by Cambridge's wellness program, I was able to catch and treat my prostate cancer before it metastasized and am now cancer-free for four years," said Brian Legacy, a specialty manufacturing machine operator at Cambridge International.
"SmartCEO is excited and honored to shine a spotlight on the companies that are leading a movement towards healthier and happier workplaces with our inaugural Healthiest Company Awards," said Jaime Nespor-Zawmon, president of SmartCEO Events.