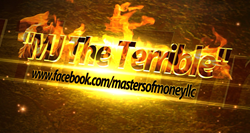 "The organization that is able to buy Carsonenergy.com, is buying a 17 year old premium brand name website domain name, that could be one heck of a powerful business tool for the right buyer." Michael Johnson - Founder & Owner - Masters of Money, LLC.
New York, NY (PRWEB) November 07, 2016
For the first time since the legendary website domain name Carsonenergy.com was originally registered more than 17 years ago, Carsonenergy.com is being brought to market by Masters of Money, LLC.
Carsonenergy.com is a high-profile, energy industry name, which used to be the #1 oil & gas investment website in the world. It is a highly marketable domain name, which offers a powerful & unique opportunity for the right organization.
The owner of Carsonenergy.com, Michael "MJ The Terrible" Johnson, announced today that his company Masters of Money, LLC., would be granted the exclusive right to market and sell the legendary energy industry domain name.
For additional information about Carsonenergy.com, or to present your purchase offer, contact Masters of Money directly at 512-297-3535 or via email at mjohnson(at)mastersofmoney(dot)com
About Masters of Money, LLC.
Masters of Money, LLC., was founded by Michael "MJ The Terrible" Johnson, in 2009, to create and sell how to information, to people looking for ways to make and save money.
The goal of Master of Money:
Provide the tools, resources, and strategies, to help anyone who wants to be more successful, create the life of their dreams.
Masters of Money's products and services list:
Opt in email marketing - Online advertising - Social media marketing - Content creation - Content marketing - Internet marketing - Public relations campaigns - Web design - Direct response marketing - Copywriting - Company and / or product branding campaigns - Fundraising - Lead generation - Company and / or product launches - Business consulting - Partnering for profits campaigns - Blogging - Content library development - Content library maximization marketing - Multi-channel marketing creation and consultation - Ghostwriting - Ebook creation - Company continuity programs - Ezine creation - Ezine marketing - Digital newsletter creation - Digital newsletter marketing - Content trading - Information brokering - Company and / or product endorsements - Guest blogging - Business opportunity offers - Create and sell making and saving money strategies and information
Company contact information:
Masters of Money, LLC
Success Strategies To Rule Your World!
512-297-3535
mjohnson(at)mastersofmoney(dot)com
http://www.facebook.com/mastersofmoneyllc