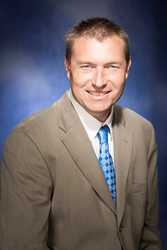 Huntingdon, Pennsylvania (PRWEB) August 17, 2015
Dwight A. Soles joined Mutual Benefit Group as facilities manager on August 3, 2015. In this role he manages all work related to the maintenance of MBG buildings and grounds, including HVAC, plumbing, electrical, custodial, and security, and supervises the Maintenance Department.
Soles attended the Pennsylvania College of Technology where he earned an associate's degree in HVAC/R Technology.
Before joining MBG, Soles was environmental services director at Juniper Village at Brookline.
Soles resides in Milroy, Pennsylvania, with his wife, Faithe, who is the social services director at Ohesson Manor in Lewistown, Pennsylvania, and their sons, Jared and Ethan. Jared begins technical school in the fall and will be training to be a welder. Ethan is a high school sophomore who aspires to be an architect. The family also includes Oliver, a dog, whom Dwight and Faithe enjoy taking for walks.
In his spare time Dwight hunts, fishes, and attends Penn State sporting events with his family. He also likes watching NASCAR races.
Mutual Benefit Group is a regional property/casualty insurance carrier headquartered in Huntingdon, Pennsylvania, that has been providing coverage for personal autos, homes, and businesses since 1908. The company's insurance products are underwritten through its member companies, Mutual Benefit Insurance Company and Select Risk Insurance Company. Rated A- (Excellent) by A.M. Best, Mutual Benefit serves nearly 75,000 policyholders in Pennsylvania and Maryland through 250 independent insurance agents. The Company was named one of the Top 100 Businesses in Pennsylvania for 2014 by Pennsylvania Business Central, and was also named to the list of Best Places to Work in Pennsylvania for the sixth consecutive year.