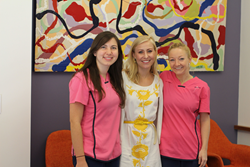 Now patients do not need to wait for an appointment in order to get the high quality of dermatological care they have learned to expect from us
Philadelphia, PA (PRWEB) August 16, 2015
Dr. Bird completed her dermatology residency at Brown University in Providence, Rhode Island, where she gained both medical and surgical experience. She treats conditions such as skin cancer, acne, psoriasis, and other dermatological disorders. In addition, she provides cosmetic services such as Botox and filler injections, treatment for scars, rosacea, laser tattoo removal, melasma, skin rejuvenation, and more.
"I am very excited to have Jayne as part of our team," said Dr. Franziska Ringpfeil, the founder of Ringpfeil Advanced Dermatology. "Now patients do not need to wait for an appointment in order to get the high quality of dermatological care they have learned to expect from us."
Dr. Bird is seeing patients at the Haverford office on Mondays, Wednesdays and Fridays. She will see patients at the Philadelphia office on Tuesdays and Thursdays.
Click here to book online an appointment with Dr. Bird or call 215-545-5458 to book an appointment over the phone.
About Ringpfeil Advanced Dermatology:
Ringpfeil Advanced Dermatology provides premium general dermatology, cosmetic dermatology, dermatological and laser surgery to the Philadelphia, Main Line, and Delaware Valley area. The practice was founded by Franziska Ringpfeil, MD, a board certified dermatologist with training in both the US and Germany as well as national and international recognition through lectures, peer-reviewed articles and many book chapters. She is assistant professor at Jefferson Medical College and the recipient of the prestigious Young Investigator Award by the American Academy of Dermatology. Her practice provides uncompromised quality of care through experience, technology, and focus on patient satisfaction.