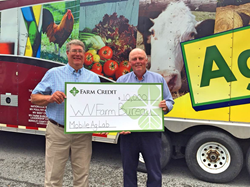 We are honored to support the Lab and it's outreach to the residents of West Virginia as Farm Bureau continues to educate and advocate for agriculture
(PRWEB) August 15, 2015
Farm Credit of the Virginias Chairman Charlie Leech presented a check for $10,000 to Charles Wilfong, President of West Virginia Farm Bureau, to support the purchase of a new Mobile Agriculture Education Science Lab. "We are honored to support the Lab and it's outreach to the residents of West Virginia as Farm Bureau continues to educate and advocate for agriculture", commented Charlie Leech.
First launched in 2009, the Mobile Ag Ed Science Lab travels to elementary schools across the Mountain State, teaching children about agriculture and the important roles it plays far beyond food. Students learn about a myriad of products that come from agriculture, including clothing, furnishings, medicines and more. As part of their Lab experience, they conduct scientific experiments and use agricultural commodities to produce items such as glue and plastic. Farm Credit has been an avid supporter of the program, donating funds towards the purchase of the original Lab as well.
In the past seven years, the Lab has traveled more than 18,000 miles across West Virginia, visiting 160 schools in 45 counties. More than 60,000 students have visited the Lab. Showing its age after such extensive travel, a fundraising campaign has been undertaken to finance its replacement.
For information on booking the Lab or to donate to the program, see our website at http://www.wvfarm.org/AgMobile.asp.
Farm Credit of the Virginias provides over $1.5 billion dollars in financing to more than 10,000 farmers, agribusinesses and rural homeowners throughout Virginia, West Virginia and western Maryland. Farm Credit is a cooperative capitalized largely through investments made by farmers, ranchers and the rural homeowners and businesses that borrow from them. Farm Credit helps maintain and improve the quality of life in rural America and on the farm through its constant commitment to competitive lending, expert financial services and for facilitating and sharing knowledge and resources through the Farm Credit Knowledge Center. For more information, visit http://www.FarmCreditKnowledgeCenter.com or http://www.FarmCreditofVirginias.com