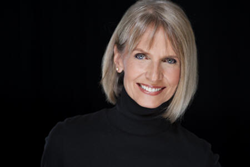 Black-Sotir brings to the stage "a voice that is absolutely beautiful." -- Neil Diamond
Owings Mills, MD (PRWEB) August 17, 2015
On Sunday, October 4, 2015, at 3:00pm, the Gordon Center for Performing Arts celebrates the musical genius of George and Ira Gershwin and that uniquely American Gershwin spirit – vibrant, brash, and bold. Local favorite Carolyn Black-Sotir will perform an entrancing, dramatic and vocal narrative detailing the Gershwins' rise to fame, accompanied by the Greenspring Valley Orchestra.
In the words of legendary singer/songwriter Neil Diamond, Black-Sotir brings to the stage "a voice that is absolutely beautiful," and, according to the Baltimore Sun, Black-Sotir is a "wonderful singer, with beautiful tone, and excellent diction, and her portrayal is spontaneous and superbly characterized."
George and Ira Gershwin are heralded as one of Broadway and Hollywood's greatest composer/lyricist teams. Writing together from 1924 until George's death in 1937, the brothers are credited with evolving musical comedy into a true American art form. From the sons of Jewish immigrants to unforgettable artists, the Gershwins' American sound continues to resonate for artists and audiences today.
The Greenspring Valley Orchestra (GVO), Stevenson University's college/community ensemble organized and directed by Professor of Music Bob Suggs, is dedicated to providing talented amateur musicians a rich and rewarding orchestral experience.
According to Randi Benesch, Managing Director of the Gordon Center for Performing Arts, "We are in for an extremely rare treat October 4 -- the gorgeous melodic voice of Carolyn Black-Sotir, the incredible vocal power of Washington National Opera bass-baritone Thomas Beard, and the amazing instrumentals of the Greenspring Valley Orchestra against the spell-binding backdrop of Gershwin tunes – some of our earliest "hits," really -- by America's most renowned pair of musical writers, who were also brothers! The Rhapsody in Blue, Porgy and Bess highlights, and classic Gershwin tunes from the Great American Songbook--this is going to be a festive afternoon as we cruise through our musical past."
Join us then, as Black-Sotir and the Greenspring Valley Orchestra combine artistic forces to celebrate the remarkable story and legacy of George and Ira Gershwin.
Co-presented with Stevenson University and sponsored by the Maryland State Arts Council, The Baltimore County Commission on Arts and Sciences, The Adalman-Goodwin Foundation and Hilda Perl Goodwin, By George! By Ira! By Gershwin! is an event not to be missed.
Tickets are $15 in advance; $20 at the door.
For press inquiries, please contact Gordon Publicist Billy Treger at btreger(at)jcc.org or 410.559.3616.
For more information regarding this event, contact Marilyn Zvili at mzvili(at)jcc.org or 410.559.3510.
###
The Peggy and Yale Gordon Center for Performing Arts is Baltimore County's premiere arts destination. The Gordon Center offers an eclectic variety of professional entertainment in music, theater, dance, family programming and film. You will experience world-class acoustics in an intimate, state-of-the-art venue. Free parking in well-lit spaces, handicap accessible, and equipped with a special RF system for the hearing impaired, the Gordon Center can be enjoyed by all.