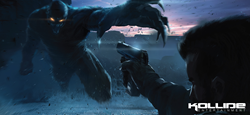 Making every player and employee a lifelong partner
(PRWEB) August 17, 2015
Kollide Entertainment announces development campaign for Broken, an episodic game series.
Kollide Entertainment is dedicated to transforming the video gaming industry by challenging existing industry status quos, adopting new school methodologies for development and community building, and creating epic story-driven experiences with a unique business model.
Broken is a third person action-adventure game that aims to deliver a finely mixed recipe of adventure and action gameplay driven by story with opportunities for players to choose their play style and path through the game in order to reveal additional story elements, experience different gameplay scenarios, and meet different characters.
Broken is set in a near future earth embattled by the escalated conflicts of today. Civility still exists, but fear and tyranny have spread across the land. In the year 2015, roughly 10 years before our story takes place, a well funded rogue extremist group hellbent on eliminating non-believers finds an abandoned Soviet era bunker in Afghanistan and begins to develop a biological weapon the likes of which the world has never seen.
Broken is currently in pre-production and being targeted at an initial PC release, with plans of expansion to Xbox, Playstation, and Mobile platforms.
Kollide is privately held, and hopes to remain that way through raising development funding through crowdfunding efforts.
Kollide Entertainment is founded by Joeyray Hall, a 23 year veteran of Blizzard Entertainment, and Kevin Caldwell, a Blizzard Entertainment and EA/DICE veteran. Together, we have over 30 years of experience and credits on every game Blizzard Entertainment has ever produced, in addition to Battlefield 4.
More information is available at http://www.kollide.com