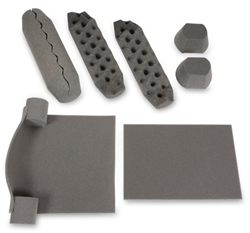 Our liners work effectively with all of Atreo's 6-inch carriers as well as those of competitive brands
Denver, Colorado (PRWEB) August 20, 2015
Atreo Services, a provider of personalized service and support programs for hospitals nationwide that rely on material handling automation, today introduces a collection of foam liners designed specifically for its new 6-inch sealed, leak-resistant pneumatic tube system carrier.
Atreo's new sealed carrier provides leak protection when sending liquid contents within most common brand-name systems. The new liners provide cushioned protection for lab samples, blood specimens, medications or other contents requiring secondary containment during transport. Atreo markets durable, long-lasting foam inserts specifically for transport of tubes, as well as flat liners, wrap liners and carrier end-caps.
"These inserts were created in tandem with Atreo's new 6-inch leak-resistant carrier to provide the ultimate in safe and secure transport within a pneumatic tube system, reducing potential for content agitation and breakage," says Atreo President Dennis McWherter. "Our liners work effectively with all of Atreo's 6-inch carriers as well as those of competitive brands."
Atreo offers a unique carrier and liner combination purchase program that reduces costs when buying both products. Contact Atreo Services toll-free at 844.819.5897 to talk with a representative about pricing and quantity purchase options. Visit us online at http://www.atreoservices.com or Atreo on LinkedIn for more information.
About Atreo Services
Atreo Services provides rapid, reliable service and predictable pricing for hospitals nationwide that use pneumatic tube systems and automated waste, recycling and soiled linen collection and transport systems. The company also offers a variety of pneumatic tube system accessories for common brand-name solutions. Atreo Services is the preferred service provider for TransVac Solutions, the leader in automated waste, recycling and soiled linen collection and transport solutions for hospitals (http://www.transvacsolutions.com). For more information, visit http://www.atreoservices.com.