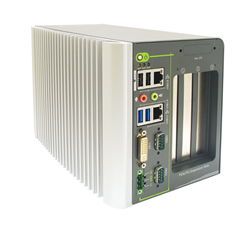 Fanless Embedded Controller With Triple Expansion Slots
Taipei (PRWEB) August 20, 2015
Neousys Technology announced its new generation multiple expansion slots box PC Nuvo-2400, featuring Intel Bay Trail J1900 processor, front accessible I/O and the fanless design. The Nuvo-2400 Series is ideal solution for toll collection and intelligent parcel system applications.
The fanless design of wide operating temperature from -25°C to 70°C enables system integrators to build up the solution with Nuvo-2400 in a wide range of environment. Nuvo-2400 is offered with 4x COM ports. Two of the COM ports are configurable as RS-232/422/485. This makes it possible to connect directly to devices with commonly used industrial serial interface.
In some applications, Nuvo-2400 is installed in a control cabinet. It is not easy to power on Nuvo-2400 by pressing the power button. A convenient design of Nuvo-2400 facilitates the integration of both remote on/off switch and the system status indicators. Few works has to be done to power on/off and know the status of Nuvo-2400 via an external control panel.
8-channel digital input and 8-channel digital outputs are provided as an option of Nuvo-2400. All inputs and outputs are isolated, and the rated voltages are 24VDC. The DI/O are compatible with many industrial sensors, indicators, coils and actuators. To access the DI/O, API, Application Programming Interface, and programming samples are provided by Neuosys Technology. Nuvo-2400 series provides three expansion PCI/PCIe slots for further expansion, such as COM port cards and frame grabber. Two models of Nuvo-2400 are available. Nuvo-2430 is offered with 3 PCI slot, while Nuvo-2421 with 2 PCI slots and 1 PCIe slot.
Powered by Intel® Celeron® Bay Trail J1900 quad-core processor, Nuvo-2400 shows outstanding computing power and is even more power efficient compared to those with its predecessors. Nuvo-2400 supports dual independent displays, dual 2.5" SATA bays and dual gigabit LAN ports with teaming and PXE. These features together with the 3 expansion slots, maximize the flexibility of Nuvo-2400 for even more generic applications. Nuvo-2400 is now available for evaluation and will be in mass production by end of Aug. The product information can be found at the following link: http://www.neousys-tech.com/products/embedded/nuvo-2400/
About Neousys
Neousys Technology Inc., established in 2010, designs and manufactures rugged embedded platforms and modules. With the core expertise ranging from embedded computing to data acquisition and processing, our goal is to innovate and integrate feature sets into products for various vertical markets with simple yet elegant architecture.
Neousys offers application-oriented platforms in the following categories:

Wide-temperature & rugged embedded fanless computer
Machine vision platforms with multiple GigE/PoE ports
In-vehicle fanless PC
Ultra compact fanless controller
Surveillance/video analytics computer system
# # #
Media Contact:
Neousys Technology Marketing Team
Phone: +886 2-2223-6182
Email: marketing@neousys-tech.com