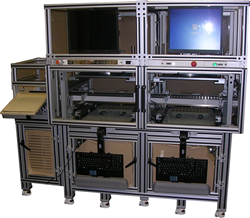 "Engineers building PCBA manufacturing lines now have a choice vs conventional fixed feature integrated handers", Greg Michalko, CEO of Circuit Check Inc.
Minneapolis, Minnesota (PRWEB) August 27, 2015
Highlights:

Separated the dependence between automation, fixturing and measurement hardware, while adding a standardized quick change PCBA fixturing interface.
Serves as unified in-line handler that is software and hardware agnostic, enabling adaptability to a variety of off-the-shelf lower cost ICT, flash and functional test software and hardware.
Probes PCBA's on the topside, bottom-side and multi-stage, while adaptable to through-connector test.
Circuit Check Inc., a global services provider of test and automation solutions for electronics and electro-mechanical devices worldwide, announced shipment and installation of its CCI 5000 Series In-line Handler at a tier one automotive component supplier.
A key to achieving the maximum value from automated test equipment is using the same equipment and fixture mechanics to test multiple products. Circuit Check's 5000 Series In-line Handler achieves this by using interchangeable fixturing. Interchangeable components enable the same test system to be quickly reconfigured with new tooling for different products. This maximizes equipment re-use while minimizing the cost for each new test.
"We are delighted to have the CCI 5000 installed and running at one of our key accounts. The CCI 5000 open architecture will quickly deliver a positive return-on-investment for our customer", says Greg Michalko, CEO of Circuit Check Inc.
Another important strategy is evaluating and matching a PCBA's test requirements. With the CCI 5000 series in-line, PCBA manufacturers can more easily manage tester resources though a unified in-line handler system matched to customer defined test needs for balanced ICT, flash and functional test. The CCI 5000 series in-line is configured to customer specific test needs to maximize performance at a lower investment.
"Our customers now have a choice vs conventional fixed feature integrated handers", commented Greg. "Manufacturers worldwide now compete on speed and rapid time-to-market. We feel the CCI 5000 answers manufacturers' need for a flexible, economical in-line automation solution, but with test capabilities that are matched to meet their testing challenge".
About Circuit Check
Established in 1979, Circuit Check Inc. (CCI) professional services include best-in-class ATE fixturing and interfacing technologies, line-automation systems, and complete test system integration. Circuit Check's electrical/software/mechanical/project-management teams and manufacturing facilities are fully integrated, and strategically located in North America. Our global support and services footprint enable our customers to take advantage of international production efficiencies. Circuit Check is the partner to innovative test solutions for leaders in automotive, medical, industrial, telecommunications, consumer and aerospace market segments, delivering 1000's of solutions and more than 100,000 test fixtures worldwide.
© Copyright 2015 Circuit Check. All rights reserved. Information subject to change without notice.