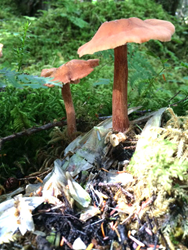 Cordova, Alaska (PRWEB) August 19, 2015
Chilly nights and bloomed out fireweed signal the end of summer, and the beginning of mushroom season. Come visit Cordova on Labor Day weekend, September 4-6th, to celebrate the 9th annual Cordova Fungus Festival, sponsored by the United States Forest Service and the Cordova Chamber of Commerce. This year there is another exciting line up of myco-talent and a weekend full of talks, delicious food, crafts, and forest walks all centered on celebrating and learning more about wild Alaskan Fungi and Salmon.
The event kicks off at the Net Loft with visiting myco- that's Latin for fungus- pigment expert Alissa Allen, who will give an introduction to the many uses of fungi as dyes. This is Alissa's second visit to Cordova, and she looks forward to leading dye workshops throughout the weekend using mushrooms collected from Cordova as well as a few surprises from other exotic locales. The Net Loft will also be offering other exciting crafting opportunities inspired by the mysterious mushroom.
The US Forest Service will be hosting a display table all weekend with locally collected mushrooms. The public is welcome to bring their fungal finds to the office for identification and discussion. There will be talks Friday night featuring Noah Siegel, a mycologist with extensive knowledge on many fungal facets and author of the soon to be published "Mushrooms of the Redwood Coast". Noah will be followed by the "Cow Town Curmudgeon", Denis Benjamin, who is a frequent contributor to many fungal publications and author of two books "Mushrooms Poisons and Panaceas" and "Musings of a Mushroom Hunter". There will also be several forays (mushroom walks) guided by local and visiting mushroom experts departing from the USFS building Saturday and Sunday.
Did you know that local fungi are made of salmon? Wild Copper River Delta salmon are partners to these mushroom-laden forests. Though salmon spend the first and last parts of their life cycle in fresh waters throughout the Delta, they gain about 99% of their body mass in the ocean. When they return to their home stream to spawn and die, all of the wonderful marine-derived nutrients they have packed with them are transferred to the surrounding terrestrial environment.
Just as salmon partner with local fungi, the Copper River/Prince William Sound Marketing Association (CRPWSMA) is partnering with the Cordova Fungus Festival. This year, CRPWSMA is pleased to host Chef Tim LaBant of the Schoolhouse at Cannondale, winner of OpenTable's Diner's Choice award in 2014 and 2015. Tim will be serving Copper River Coho salmon at the Harvest Feast on Saturday, September 5. Throughout the festival, Tim and three other media guests will be learning about Copper River salmon, the Copper River salmon fishery, and the community this fishery supports.
Please visit the Cordova Chamber of Commerce (http://www.cordovachamber.com) for a complete schedule of events and more information. Tickets to attend the Harvest Feast are available at the Copper River Watershed Project (http://www.copperriver.org) for $65. Happy mushroom hunting.