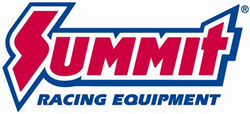 Tallmadge, OH (PRWEB) August 25, 2015
Summit Racing now offers B&M Differential Covers, Curt Fifth Wheel Receiver Hitch Kits, and Lund Pro Line Carpet Kits for truck owners wishing to improve comfort and towing capacity of their vehicles.
B&M Differential Covers
B&M Differential Covers feature a series of fins that serve a dual purpose. First, the fins add critical strength to the casting. Second, the fins serve as heat sinks, absorbing heat from the gear oil and dissipating it away from the differential. B&M differential covers also increase gear oil capacity, further improving cooling capability.
Curt OEM Compatible Fifth Wheel Trailer Hitch Kits
These hitch kits use factory-style hitch legs to ensure a rock-solid mount. They use a unique hitching mechanism for added trailer security. The hitch design is actually based on the same system used by 18-wheelers. The coupler is on the vehicle side and accepts the trailer's kingpin instead of a more traditional ball-mount shank.
Lund Pro Line Molded Carpet Kits
Lund's Pro-Line Molded Carpets are a smart replacement for a truck's thoroughly trampled original carpet. To ensure a perfect match, Lund uses precision floor molds to pressure form each carpet. The forming process is so precise that Lund tells us these carpets actually fit better than factory. As a final step, each carpet is trimmed to a perfect match for the original fitment.
Summit Racing Equipment
SummitRacing.com
1-800-230-3030