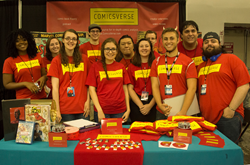 At a time when I didn't feel like I fit in anywhere, when I didn't feel like I had a family...I had X-Men, and they were my family. I learned to focus on being a better person despite what people were saying about me and how they were treating me.
New York, NY (PRWEB) August 20, 2015
The ComicsVerse podcast, website and online community, dedicated to the in-depth analysis of comics as a high art form, recently celebrated its third birthday. For CEO and podcast host Justin Alba, comics had given him a safe haven from adolescent bullying and a form of expression during troubled periods of his life while affording him the wisdom to grow as a person. As he observes:
"At a time when I didn't feel like I fit in anywhere, when I didn't feel like I had a family or community, I had X-Men, and they were my family. I learned to focus on being a better person despite what people were saying about me and how they were treating me. I learned that there were communities that became families like the X-Men who accepted each other and their faults and physical and racial differences and learned to love one another. I learned how to treat a romantic partner the right way. I learned how to be a better human being. I learned a path to self acceptance."
This had been Justin's personal motivation behind founding the company and starting the site, and his commitment to personal growth and development shapes the company. This has particularly been the case with the interns, with one recent intern becoming production coordinator, and another joining the editorial team. The close relationship between Justin and the ComicsVerse interns is detailed in his article:
"Recently, an intern approached me....They began to describe how they were feeling. Working a job surrounded by narcissistic, selfish people and feeling lost after graduating university with degrees in art, film and writing, they were no longer creating art of any kind. This person told me that they had surrendered themselves to the world, giving up on their dreams as they endured a devastating depression and crippling anxiety they had trouble escaping. I was instantly reminded of, not only myself, but the mutant experience in X-Men comics I grew up reading as the person continued to describe how they didn't fit in anywhere. Before I went to console them, they told me that ComicsVerse had, in a way, "saved [their] life." How, by exposing them to writing about comics and a community of people who feel the same way about them as they do, they slowly began to write again and make art, allowing for the self-expression so necessary for an artistic and emotional mind to survive in a world full of public personas and find joy and peace. They told me that they finally felt part of a community that understood them, a community that was a family, a family exactly like the one I read about in X-Men comics. Upon hearing the end of the sentence, I was holding back tears."
As Justin continues:
"ComicsVerse has achieved a place in the comic book industry as an influencer that guards and protects the medium for readers and takes it, and its creators, seriously as artists and writers. Our analyses and reviews never insult or demean a comic, story arc or creator. If we disagree with something, we back it up with constructive criticism and love for the talented people who put themselves out there (and many times in not great working conditions) to create comic book works of art. While we revel in geek and nerd culture, that's not what we're doing at ComicsVerse. Our focus is on how comics are made, the language of comics that tells us about a work, the artistic processes and inspirations behind the creator(s), and simply what comics are about — opening people up to new cultures, ideas and ways of thinking that could have major impacts on how they live their lives and perceive the world."
READ: Full version of the ComicsVerse CEO's inspiring and emotional open letter.
ComicsVerse has experienced record growth in the last year, with podcasts and articles more popular than ever before, and podcasts guests including Moon Knight, Venom, Deadpool and Injection artist Declan Shalvey and Star Wars anthology and Marvel.com writer Tim Stevens. The team covered Special Edition: NYC, New York Comic Con and Boston Comic Con (just to name a few) more than any other news source, and the site hosts interviews with major industry figures including Scott Snyder, Gail Simone, Mark Waid, Mike Carey, Valentine De Landro, Simone Bianchi, Phil Jiminez, V. Ken Marion and Peter David.
The team has recently been joined by Glenn Matchett, comic book writer and former editor of GrayHaven Publishing. He will be running online classes on comic book creation, including writing, scripting and drawing for comics, and will be launching ComicsVerse original webcomics.
ComicsVerse invites comic book creators, professional artists, pencilers, inkers, interns and others involved in the comic book industry to contact them via email at inquiries(at)comicsverse(dot)com if they would like to have their work featured on the website, are interested in contributing or to be considered for an interview or podcast. Visit http://www.comicsverse.com for more information or http://comicsverse.com/podcasts/ to listen a ComicsVerse comic book podcast!