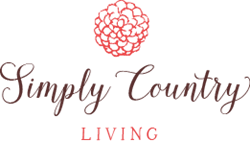 "I wanted to offer rustic pieces that are beautiful and functional, items that are perfect for a getaway cabin or simple country farmhouse."
Cody, WY (PRWEB) August 24, 2015
Simply Country Living announced its grand opening today August 20th, 2015. Simply Country Living specializes in bringing rustic country decor and functionality together in high quality home furnishings perfect for any home.
"I wanted to offer rustic pieces that are beautiful and functional, items that are perfect for a getaway cabin or simple country farmhouse," said Amanda Brengle, Owner and CEO of Simply Country Living. Growing up in the Black Hills of South Dakota and now making her home in the scenic Cody, Wyoming, simple country living comes naturally to Brengle. "I grew up on a horse competing in rodeos all the way through college at the University of Wyoming." Now she spends her days outdoors with her family and their horses, chickens and milking goats. It's obvious that this lifestyle has influenced every part of the Simply Country Living boutique.
Available at http://simplycountryliving.com are a variety of products in various price ranges. The offerings include pendant lighting fixtures, desk lamps, rustic furniture, braided area rugs, kitchen and bath products and wall decor. "One of my favorite products are the hand crafted ceramic pottery dinnerware and bakeware pieces, because they're made with non-toxic materials and handcrafted here in the USA, not to mention beautiful," says Brengle.
Another favorite product is the ultra-durable stain proof washable area rugs, "they're incredibly durable and high quality, they're beautifully braided and washable, definitely a must for a busy mom like me", Brengle explained. Coming soon the product line up is custom hand crafted log furniture. "I'm working with a craftsman of log furniture as we speak, we're coming up with some pieces that will be one of a kind and only available at Simply Country Living, I'm so excited about these products", Brengle explained.
Simply Country Living is an online rustic furniture and home decor boutique with a variety of affordable products that are high quality, durable and beautifully made.