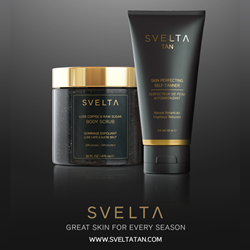 Moe Kittaneh says, "The opportunity to meet with a wide range of retailers, journalists and consumers is very exciting, and we look forward to introducing Svelta Tan's unique formulas and connecting with customers face-to-face."
New York City, NY (PRWEB) August 24, 2015
Independent beauty brands are seeing a big boom in recent years, and first ever Indie Beauty Expo aims to shine a spotlight on a select group of emerging companies.
One brand in attendance is Svelta Tan, a recently launched skincare line featuring self-tanners and body scrubs constructed with active botanical ingredients. The brand will be showcasing their signature products, providing demos and tips as they meet with industry professionals and consumers, and taking part in an exclusive retail event.
The Indie Beauty Expo takes place on August 27, 2015 in New York City. The event will be hosted at the Altman Building in Manhattan, opening to professional buyers and retailers at 10:30 AM and then to consumers and the general public from 5:00 PM to 8:00 PM.
Svelta Tan founder and CEO Moe Kittaneh says of the show, "We are excited to take part in the very first Indie Beauty Expo alongside other fresh and innovative companies. The opportunity to meet with a wide range of retailers, journalists and consumers is very exciting, and we look forward to introducing Svelta Tan's unique formulas and connecting with customers face-to-face."
Indie Beauty Expo aims to curate leading independent brands in the beauty world for buyer and editorial discovery, creating an immersive experience with demonstrations, panels and other events. During the Indie Beauty Expo consumer event, visitors can enjoy a significant discount off the entire Svelta Tan line, saving 25% off regular retail prices.
Svelta Tan will be exhibiting at the show in Booth LL-18, featuring their signature products and demonstrating ingredients. Svelta Tan Skin Perfecting Self-Tanner stars Ecocert certified tanning actives along with a wealth of botanical ingredients targeted at delivering flawless, healthy skin. The Luxe Raw Sugar & Coffee Body Scrub keeps skin smooth year-round with organic turbinado sugar, roasted coffee, cardamom and supple oils.
SVELTA Skincare caters to today's savvy, high-end beauty consumer. The brand distinguishes itself by using only the finest botanical ingredients, each hand-selected to deliver both function and benefits to customers. SVELTA products are 100% vegan, cruelty-free and free of parabens, sulfates and phthalates. Visit SveltaTan.com for more information.