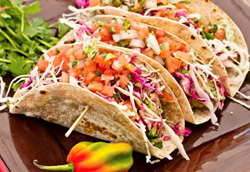 "You know you're onto something when people from South Beach are driving up 40 minutes to hang out at a Taco joint 20 miles north," adds owner Nathan Lieberman. We figured out a way to cater to locals and tourists and it really caught on."
Hollywood, Florida (PRWEB) August 24, 2015
Taco Beach Shack has scored the coveted title of the #1 spot for tacos by the Broward & Palm Beach New Times, the county's authority on all that's great and taste-worthy. Located adjacent to the Hollywood Beach Suites Hotel + Hostel property, both owned by South Beach Group, Taco Beach Shack has people lining up around the block even in low season. While most restaurants come and go, Taco Beach Shack continues to thrive as it enters its 5th year.
"It's really all about a cool vibe and the fact that we pride ourselves on creating tacos that are uniquely creative and incredibly fresh. We have high standards when it comes to our ingredients. Guests and locals have one bite and are hooked. Once they experience what we're doing at Taco Beach Shack they really like it," explains General Manager, Mark Dubin.
The Chew, Food Network, Anthony Bourdain, and Travel Channel led to a more knowledgeable eater with higher expectations. People are looking for something interesting. Taco Beach Shack exceeds expectations with stand-out selections such as their Korean short rib and kimchi slaw taco; 12-hour smoked tender brisket tacos, locally caught mahi-mahi tacos and crispy shrimp with pineapple salsa. Servers take the time to explain how food is prepared and any specials creating a more personable feel. This is why it's been a consistent hit over the past five years.
###
Taco Beach Shack is owned by South Beach Group Hotels since 2010. It is located in the heart of Hollywood Beach. 334 Arizona St. Hollywood Beach, FL 33019 Telephone: 954-920-6523
Hours 11:30 AM until 2:00 AM.
http://www.tacobeachshack.com
For press inquiries please contact:
Lisa Concepcion, 305-531-5831 ext 3051 / lisa(dot)concepcion(at)southbeachgroup(dot)com
Michell Diaz, 305-531-5831 ext. 3052 / michell(dot)diaz(at)southbeachgroup(dot)com