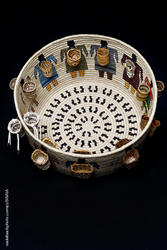 We are so fortunate to have the privilege to jury some of the most talented artists in the world at Santa Fe Indian Market," said Dallin Maybee, SWAIA Chief Operating Officer.
Santa Fe, New Mexico (PRWEB) August 21, 2015
Santa Fe Indian Market is pleased to announce this year's Best of Show, Best of Class and special award winners in a variety of classifications. For 94 years, Santa Fe Indian Market, the world's largest and most prestigious Indian art market, has awarded Best of Show winners to the nation's most exceptional artists in a variety of juried categories.
Over thirty judges, experts in various media, spent all day Thursday, August 20, reviewing and critiquing this year's entries and determining the winners. The announcement of the Best of Show, Best of Class and special award winners was made publically at the Best of Show Luncheon on Friday afternoon.
This year's overall Best of Show winner is Carol Emarthle-Douglas (Northern Arapaho-Seminole). Her basket entitled "Cultural Burdens" represents the "burden" of baskets of various tribes in 22 attached miniature baskets; coiled, twined and plaited weave, with a variety of tree splints, silk thread, sinew, pine-needles, wood, pewter beads, and deer hide. This is Carol's first Best of Show award and she has been showing at Santa Fe Indian Market since 2000.
All of the Best of Show Winners' phenomenal artwork will be available this weekend during Santa Fe Indian Market beginning with the Sneak Preview on Friday night from 5:30-7:30 p.m. at the Santa Fe Convention Center. This is the public's first opportunity to see this year's award winning artwork; the General Preview, 7:30-9:30 p.m., immediately follows the Sneak Preview.
This year's Best of Class winners by classification are:
Class I: Jewelry
Ernest Benally (Navajo), "Bolo on Handmade Leather", 26" Bolo with handmade Sterling Silver and inlaid gemstones and shells, on leather
Class II: Pottery
Nancy Youngblood (Santa Clara Pueblo), "Horse Running through the Lighting and Rain," Santa Clara Pueblo Clay pot, Native out-door firing, stone polished
Class III: Painting, Drawing, Graphics & Photography
David Dalasohya (Hopi/ Laguna Pueblo), "Mixed Kachinas' (Cloud Form) acrylic on canvas, 36 x 48"
Class IV: Wooden Pueblo Figurative Carving & Sculpture
Bryant Mavasta Honyouti (Hopi), "Depiction of Corn Dancers," Multiple figure wood carving with attached Katsinas, 16", hand-carved Cottonwood Root, wood-burned relief, and acrylic paint
Class V: Sculpture
Troy Sice (Zuni Pueblo), "Warrior Mouse and Owl Set," Carved elk antlers, inlaid with sterling silver, shell and precious stones
Class VI: Textiles
D.Y. Begay (Navajo), "Blessings of Rain," Navajo weaving/tapestry, made of wool
Class VII: Diverse Arts
Jamie Okuma & Sandra Okuma (Mother and Daughter) (Shoshone Bannock/Luiseno),
"The Haute Couture of the Indigenous Kind: Yesterday and Today;" two mannequins together as an installation – concept is Native fashion and its evolution and adaptation to contemporary times; textiles, beading, jewelry, handbags, ornamentation in multiple mediums and materials
Class VIII: Beadwork & Quillwork
Jackie Bread (Blackfeet), "1892 Ledger Book with 6 Ledgers and Portrait of Blackfeet Men," cut and seed beads, 1892 ledger book and antique papers, materials, colored thread, appliqué stitch beadwork, lazy stitch embroidery techniques, prisma colors, pencil
Class IX: Youth (artists aged 17 and under)
Camryn Growing Thunder (Assiniboine/Sioux) "Parfleche Handbag," Hand-painted design on wood tiles with beaded handle and image of Chief Spotted Tail
Class X: Moving Images
"Native Evolution," by documentary filmmaker Kyle Bell (Thloptlocco), documentary, featuring artist/painter Steven Grounds (Yuchi, Navajo, Seminole, Creek)
Class XI: Basketry (Best of Show)
Carol Emarthle-Douglas (Northern Arapaho-Seminole), "Cultural Burdens," which represents the "burden" of baskets of various tribes in 22 attached miniature baskets; coiled, twined and plaited weave, with a variety of tree splints, silk thread, sinew, pine- needles, wood, pewter beads, and deer hide
2015 Special Award Winners:
Peter Dechert Traditional Art Award
Loren Phillips (Hopi) "Longhair Kachina Dances to the Beat of Drum' —Kachina figure
Helen Naha Memorial Award for Excellence in Traditional Hopi Pottery
Steve Lucas (Hopi) –Awatovi-style pot
Innovation Award
Tim 'Blue Flint' Ramel (Bad River Chippewa/ Comanche)
"Horse stealing songs beneath a Comanche moon" —Double flute
First National Bank of Santa Fe Youth Award
Roxanne Roselee (Navajo) (7th generation Navajo weaver) —Two Grey Hills weaving
Native Peoples Magazine Creativity Award
Tom Farris (Otoe-Missouria-Cherokee) 'Crusin' for a Brusin' —war club
Santa Fe New Mexican Youth Award
Camryn Growing Thunder (Assiniboine/Sioux) "Parfleche Handbag" —Hand-painted design on wood tiles with beaded handle and image of Chief Spotted Tail
IAIA Distinguished Alumni Award
Monty Little
"We are so fortunate to have the privilege to jury some of the most talented artists in the world at Santa Fe Indian Market," said Dallin Maybee, SWAIA Chief Operating Officer. "I want to acknowledge the extraordinary artists that submitted their works this year and congratulate all the winners."
For media inquiries, contact:
Audrey Nadia Rubinstein
505 490 1837
Audrey(at)jlhmedia(dot)com
###
About SWAIA:
Founded in 1921, SWAIA is an advocate for Native American arts and culture, and creates economic and cultural opportunities for Native American artists by producing and promoting the Santa Fe Indian Market as the finest Indian art event in the world; cultivating excellence and innovation across traditional and non-traditional art forms; and developing programs and events that support, promote, and honor Native artists year-round. swaia.org