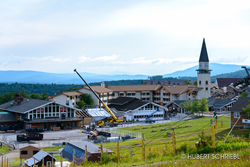 Montpelier, VT (PRWEB) August 24, 2015
Last season Vermont ski and snowboard resorts focused on enhancing their already superior snowmaking systems, allowing them to make more snow with less energy with the help of Efficiency Vermont. Those improvements, paired with the most snowfall in the continental US, resulted in the best season on record for the state and skiers and riders flocked from all over the country to experience Vermont at its finest. This season is predicted to be another snowy and cold winter, blessing Vermont with plenty of natural powder, but that doesn't stop the country's top resorts from improving the ski and snowboard experience even more. Check out what Vermont's resorts have been up to over the summer.
Lodging, Amenities and Other Updates at Vermont Resorts
Stowe Mountain Resort
In order to meet the demands of a rapidly growing slope side community, Stowe Mountain Resort and Spruce Peak Realty will unveil their latest development this coming winter 2016. The new building will advance and expand the family amenities and services at Spruce Peak. Several new facilities are being built around a new ice rink that will double as a community plaza and green in the summer. These amenities will include a new state-of-the-art children's Adventure Center with ski/ride school, year-round daycare facilities, and a children's activities center. A new Stowe Mountain Club Alpine Clubhouse will also be delivered as a part of the expansion. Retail shops, restaurants, food markets and a parking garage for Club members, will additionally be constructed to enhance the Spruce Peak Plaza. This exciting next phase of development is the culmination of conversations with many Spruce Peak owners, Club members and resort guests throughout the past ten years. Visit http://www.stowe.com.
Stratton Mountain Resort
Stratton is investing $9 million in a Main Base Lodge project, which will add 4,000 square feet and approximately 350 seats to the original lodge that has welcomed generations of friends and family since 1961. A brand new cell tower has been installed at the Sun Bowl area to provide better cell phone service to Verizon and AT&T customers visiting the resort. A summit webcam will also be ready for the 2015-16 season, allowing snow enthusiasts to watch what's happening at Stratton from their computers and cell phones.
Q Burke Mountain
The construction and opening of the brand new 116 room Hotel and Conference Center offers countless outdoor venues, has over 4,800 square feet of conference, reception and meeting space, a day lodge, restaurant, pub, and café and some of the most beautiful views in Vermont out of every window. Visitors can be one of the first to experience it and ski for free December 11th-26th, 2015. Complete details can be found by visiting http://www.qburke.com.
Jay Peak Resort
Yes, Jay Peak will open more mountain cottages this winter (36 in all). And sure, site work has begun on the new movie theater, which hopes to have its red carpet ready by spring. But the big news at Jay Peak this winter is trash. Specifically, the 40 tons of food scraps that instead of winding up in Vermont's only landfill, will be diverted by the resort and turned into compost for the numerous gardens found around Jay Peak. It's part of a statewide initiative that Jay Peak's helping to show others how simple it is to "close the loop."
Bolton Valley
The new South of Solitude restaurant at Timberline will feature a south of the border menu including burritos and tacos made to order from fresh ingredients. The Poolside Lounge in the Sports Center will serve up wraps, sandwiches, paninis, beer and wine. The resort has also added a significant amount of new ski and snowboard stock to its rental inventory.
Snowmaking and the Mountain Experience Continue to Improve in Vermont
Killington Resort & Pico Mountain
Killington and Pico continue to focus on snowmaking and lift operations, replacing primary water lines, rebuilding pumps and hydrants to boost efficiency, and also upgrading lift drives including the K-1 Express and Skyeship Express gondolas, making them more reliable. Also new at Killington is the $3.5 million Snowshed Adventure Center, boasting a nearly mile-long Beast Mountain Coaster, a soaring Skyeride over 100 feet above Snowshed Pond, a four-story Skye Ropes Course and much more.
Mount Snow Resort
Major upgrades for the 2015-16 season include new snowmaking pipe across the mountain which will allow them to maximize the use of the 645 new guns installed last season. Ten miles of new, larger pipe has replaced older, inefficient pipe. Significant progress has also been made on West Lake, Mount Snow's future 120 million gallon snowmaking water reservoir, which is expected to be completed before the 2016/2017 winter season. Additional aesthetic upgrades include paving around the resort and new carpet in many restaurants. The seasonal locker room got a major facelift, including new ceiling, floor, walls, security, and the lockers themselves.
Okemo Mountain Resort
There are lots of improvements at Okemo this winter: a second bubble chair, a fixed-grip lift, a new trail and snowmaking is being added to two trails at Jackson Gore.
Skiers and snowboarders will view the landscape through the bright orange tint of a retractable, transparent dome when they ride in the comfort of another new, high-speed bubble chairlift named Quantum Four. Okemo's snowmaking system expansion this year includes White Lightning and Rolling Thunder at Jackson Gore. At SouthFace Village, Okemo's newest on-mountain community, the Sunshine Quad will connect the Village Center to the South Face Express Quad and provide access to the new Suncatcher trail. Okemo is also introducing convenient RFID ticketing this season.
Q Burke Mountain
Q Burke has invested more than $1 million in snow making expansion that is scheduled to come on-line for the 2015-16 winter season. The project began in May which involves the installation of 20 state-of-the-art energy efficient fan guns as well as the construction of a new summit booster pump station. This is the first phase of a three-phase snowmaking expansion and upgrade which will allow Q Burke to open earlier with more terrain.
Smugglers' Notch Resort
Smugglers' snowmaking improvements over the last three seasons feature more than 400 new high efficiency guns to improve terrain coverage and quick refreshing of trails. New snow gun placement this winter will serve a favorite learning trail where novices enjoy their first experience with natural features by sliding through Billy Bob's Bear Den and Yellow Cat Woods, and savoring the warmth of a camp fire during a stop by Father Winter's slopeside tipi. A newly completed snowmaking pipeline ensures optimal water availability while adhering to the resort's own goals for environmental responsibility as well as state benchmarks for environmental management.
Sugarbush Resort
For this season, Sugarbush has replaced the Valley House Double with the Valley House Quad, a fixed-grip, high-speed quad that will take skiers and riders to the top of The Mall. Sugarbush also restructured the area at the top of The Mall and Stein's for a more fluid interaction, as well as brought the bottom terminal of the lift down next to Super Bravo Express. The resort is also constructing the next phase of real estate development in Gadd Brook, sixteen ski-in/ski-out condominiums at the base of Lincoln Peak.
Learn-to-Turn at a Vermont Resort and Pick up a Lifelong Sport
Bromley Mountain
The 2015/16 Winter Season will see an update to the Learning Zone, with regraded terrain to both improve the experience for beginners and also reduce the amount of snowmaking necessary to build Terrain Based Learning features. Bromley is also updating the grooming fleet, adding a new winch capable Prinoth 350X, and re-nozzling 50 SV10 snow guns, turning them into SV10 plusses. (What does that mean? Reducing air used from 100cfm each to 60cfm each, saving energy.) The popular Super Duper 6-Pack now includes a snowboard option. The $649 package includes 6 all day Kidsrule (ages 5-14) lessons, complimentary Rossignol skis or Burton snowboard, an earned season pass, plus exclusive discounts at the ski shop. With the more experienced skier in mind, the full service Rental & Repair shop will be adding new high end Rossignol Experience skis, plus men/women-specific boots to the fleet.
Smugglers' Notch Resort
Smugglers' Notch Resort continues to enhance its award-winning family vacation experience with programming innovations for all ages. On a new evening guided snowshoe outing, families trek through the woods to enjoy the classic treat of s'mores around a bonfire. Fans of Smugglers' one-day women's clinic will appreciate the option of a three night getaway incorporating massage and yoga with ski and ride instruction for all abilities.