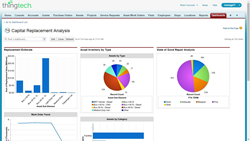 Their fleet management tools offered a combination of features that no one else could beat.
Atlanta, GA (PRWEB) August 25, 2015
Thingtech – an Atlanta, GA company announced today that it has been selected to deploy maintainIT - an enterprise transit asset management solution - to Ride Connection, Inc. (Ride Connection), a leading provider and broker of demand response community transportation services in the Portland, OR metropolitan area.
Ride Connection, like many community transportation providers, operates a large fleet across a wide geography. This, along with the company's unique provider and broker model – where some vehicles are operated by providers; not Ride Connection directly – present large challenges for maintenance management, record keeping, and reporting requirements.
Recognizing the challenge, Ride Connection turned to technology to assist. After evaluating proposals, Ride Connection selected Thingtech for its innovative, cloud-based and wirelessly connected solution that connects providers via the cloud and can connect assets through real-time tracking for asset utilization, asset health status, and driver safety.
"We're very excited to be working with Thingtech. Their fleet management tools offered a combination of features that no one else could beat. Community transportation challenges are unique relative to other industries and we were thrilled to find a vendor that provided robust Fleet management tools, with the detailed features geared specifically for us and our industry," says Elaine Wells, Executive Director of Ride Connection.
The solution provides end-to-end maintenance management with enhanced features specific to public transportation, such as the Federal Transit Administration's (FTA) asset data modeling and reporting requirements. In addition, cloud-based solution offers out-of-the-box Web Portal functionality to provide limited, secure, web-based access to those transportation and maintenance service providers who require access to periodically update data and access system features.
"Ride Connection is an innovative leader in community transportation. The challenges they face are a perfect fit for our platform that provides Asset Intelligence through the cloud and the Internet of Things (IoT). We're honored that our solutions will help Ride Connection with their mission of delivering the gift of mobility to those in need," says Brian Corcoran, President of Thingtech.
About Ride Connection
Started in 1986, Ride Connection is a non-profit who pioneered a coordinated transportation delivery system composed of transportation partners. Ride Connection and its service partners offer a variety of transportation services for medical needs, shopping, employment, school, supportive services, nutrition, volunteer work, and recreation throughout the Portland, OR Tri-County area.
About Thingtech, LLC
Thingtech is headquartered in Atlanta, GA and offers Software as a Service (SaaS) applications for Enterprise Asset Management (manageIT), Fleet Tracking and Telematics (tracIT), and Schedule and Route Optimization (routeIT) for a variety of vertical markets including Construction, Interstate Trucking, Local Delivery, State and Local Government, and Public Transport. Solutions are real time providing actionable data through work flow automation and predictive analytics.