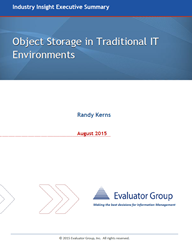 The continued information generation from ongoing operations has led to the need to more intelligently and economically manage data.
Boulder, Colorado (PRWEB) August 24, 2015
Object storage technology solves some of the major problems in storing and managing information, particularly the most pressing problem of the amount of data IT is tasked with handling. This massive data management problem, first experienced by the web-scalers, media providers and HPC environments, now impacts traditional IT. Evaluator Group has documented Object Storage usages and value in its latest report, Object Storage in Traditional IT Environment Industry Insight. An Executive Summary is also available for free.
"The continued information generation from ongoing operations has led to the need to more intelligently and economically manage data," said Randy Kerns, Senior Strategist Evaluator Group. "Traditional storage designs are not optimal for such large numbers of data elements. IT has looked at new solutions which utilized object storage to address scaling and long term data protection."
Evaluator Group documented four primary usage areas seen by traditional IT deployments. These include Content Repository, Content Platform for Single Copy and Data Management, Content Preservation and Information Stewardship. Industries interviewed included education, healthcare, government and cloud providers servicing traditional businesses. The business reviews give insights into successful deployments of object storage and the type of value the systems have delivered.
"Evaluator Group reached out to leading vendors to submit interview opportunities. While we worked through the vendors, all IT end user discussions were free of vendor participation or contribution," said Camberley Bates, Managing Director, Evaluator Group. "What was interesting was some of the similarities of deployment, but contrasted with the differences in value each of the vendors provided to their end users."
The Object Storage Industry Insight is available via subscription or individual document purchase. An Executive Summary is available for free. Full coverage of Object Storage includes an Evaluation Guide, which educates the end user on the architectures, maturation of the products and functionality to be reviewed when assessing products. In addition, Evaluator Group provides a Comparison Matrix of products and individual reviews of major offerings including Caringo, Cleversafe, DDN, EMC, HDS, HGST (Amplidata), HP, NetApp, Quantum, Scality and SwiftStack.
Premium subscriptions are required to access the full research on Object Storage. A free Object Storage Industry Insight Executive Summary is available.
About Evaluator Group
Evaluator Group Inc., an IT storage analyst firm, has been covering Information Management, Storage and Systems for over 15 years. Executives and IT Managers use us daily to make informed decisions to architect and purchase systems supporting their digital data. We surpass the current technology landscape by defining requirements and providing an in-depth knowledge of the products as well as the intricacies that dictate long-term successful strategies.