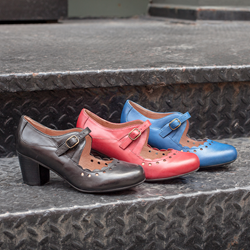 Every single shoe or boot is 'walkable' and easy to wear.
New York, New York (PRWEB) September 01, 2015
Based in Manhattan—where women want the latest looks but also need footwear that stands up to tough city streets—Miz Mooz has evolved a style that's instantly recognizable. "Overall, the fall collection goes from very edgy to fairly classic," says Dan Kenigsberg, President of Infinity Shoes, the world's largest retailer of the Miz Mooz brand, "but every single shoe or boot is 'walkable' and easy to wear."
Although that may mean leaving out fads like six-inch heels or over-the-knee boots—"just not our girl" says Kenigsberg—the Fall 2015 Shoe Collection from Miz Mooz makes some strong style statements; leading that list:
Silhouettes: This fall, Mary Janes dominate dress shoe offerings. "You'll see everything from sweet, classic Mary Janes like 'Miz Mooz Elaine'," says Kenigsberg, "to higher heels and fashion-forward interpretations like 'Miz Mooz Natalia'." Also coming on strong: Chelsea boots, especially in styles that play with wider elastic gussets like 'Miz Mooz Newport', 'Miz Mooz Lucia', and 'Miz Mooz Gemini'.
Colors: Ochre and gold are definitely the trendiest shoe shades, but you'll also notice steely blues and grays worn as the new neutrals. "Blue-grays are basics," says Kenigsberg, "and, of course, our customers always love red so we've added more burgundy and wine."
Heels: This fall, heels are slightly higher—three inches on styles like 'Miz Mooz Roselle' and 'Miz Mooz Carissa'—but always thick enough to be supportive and streetworthy. "They're stacked heels, not spindly or spiky," says Kenigsberg, "the construction makes all the difference."
Leathers: Miz Mooz customers prize vegetable-tanned leather precisely because it's quirky and irregular. "Our customers love that artisanal look and softness," explains Kenigsberg, "and they've become more environmentally conscious." Additionally, most Miz Mooz styles play up the differences with so much hand burnishing that the leather often looks and feels as if it's already broken in.
His other predictions: "This season, the Miz Mooz girl will be wearing leather sneakers like 'Miz Mooz Pericles' where she might have worn flats... and after the cold weather we've been seeing for the last two years, riding boots 'Miz Mooz Aden', 'Miz Mooz Alton', and 'Miz Mooz Archer' will be stronger than ever."
To shop styles from the Miz Mooz Fall 2015 Collection, visit http://www.InfinityShoes.com.