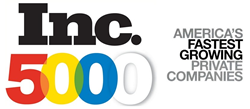 We are honored to receive this recognition from Inc. Magazine acknowledging our hard work and achievement.
Columbus, Ohio (PRWEB) August 24, 2015
For the fourth year, ADVOCATE Radiology Billing, the only 100% radiology, revenue cycle management company in the nation, has made the Inc. 5000 list of the fastest-growing private companies in America. This prestigious list is compiled by ranking the best in class companies according to their success and growth over the last three years. With a three year growth of 54% and nearly 50 jobs added, ADVOCATE has been honored with a placement on the list at #4645.
As an Inc. 5000 company, ADVOCATE now shares the same honor as Intuit, Zappos, Under Armour, Microsoft, GoPro, Oracle, Timberland, and other world-class companies once did.
Only a tiny fraction of the nation's companies have demonstrated such remarkably consistent high growth, particularly in the difficult economic environment of the past few years. This achievement truly distinguishes ADVOCATE as an elite company.
"We are honored to receive this recognition from Inc. Magazine acknowledging our hard work and achievement. We are equally honored that our growing client list has entrusted us to provide revenue cycle management services to their businesses. We will continue to work diligently to earn our clients and the business communities respect," said Kirk Reinitz, President/CEO of ADVOCATE.
About ADVOCATE
ADVOCATE is the leading radiology reimbursement services company that offers a complete and integrated approach to business issues. ADVOCATE operates nationwide with clients in all 50 states providing our unique EBT suite of services to thousands of radiologists. With our seasoned staff of professionals, we focus on addressing the unique needs of today's practicing radiology physicians.
With proven management, business processes and advanced technology to support our operations, ADVOCATE has the people and infrastructure to manage the business of radiology effectively and efficiently. With over 15 years of radiology billing experience, and proven measurable results, ADVOCATE works as a trusted and stable business partner to provide clients with a reliable, trouble—free implementation, increased cash flow, training, and support.