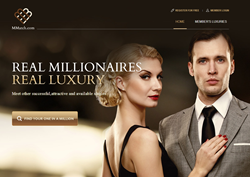 (PRWEB) August 27, 2015
Launched in March, MillionaireDatingPlaces.com is targeted towards meeting the needs of millionaire men and women. The website encompasses detailed reviews of some of the b est millionaire dating sites available today.
A representative of the site said, "This site has been designed to show a path to wealthy singles as well as those looking to date them. In order to simplify the process of dating, we have assessed some of the best dating sites in the millionaire dating segment. Every website listed here is ranked and rated based on a host of parameters."
The makers of this website have chosen to stick to a simplified user interface so that every person can make the most of it. "Using this site isn't rocket science. We have emphasized on the importance of content and followed a very basic design approach. At the end of the day, we expect our readers to be benefitted by the information we provide," the representative added.
According to the first list of reviews published on the site, MillionaireMatch.com bags the first position while DiamondRomance.com has been ranked the second best in this category. Some of the other sites on the list include DateAMillionaire.com, MeetingWealthy.com and MillionaireMate.com.
Dating Expert John Caver said, "There are so many millionaire dating sites on the market that it has become difficult to choose one that caters to all your diverse needs. A website that publishes reviews of the best dating sites certainly makes the job easier."
MillionaireDatingPlaces.com is absolutely free to use and readers don't have to registers in order to use this service.
For more information visit site: http://www.millionairedatingplaces.com/