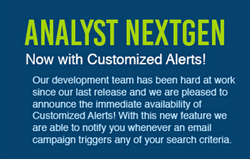 Great Q2 Performance. And we are not stopping there! GB, CEO
New York City, New York (PRWEB) August 27, 2015
eDataSource CEO G.B. Heidarsson today announced, "Our vision of listening to our clients' needs and addressing those needs at hyper speed has driven us through another period of strong client growth and unprecedented client retention, with a toolset and strategic services that are beyond anything offered by our competitors. We have succeeded in being a one-stop destination for pre and post testing and competitive performance analytics for our clients' email marketing activities, as well as offering the strongest suite of strategic competitive monitoring tools ever developed. And we are not stopping there!"
eDataSource continues to achieve record growth, adding twenty-five new clients in the first half of 2015, which growth is twice that of the year-ago period. Key brands that have selected eDataSource for their email research and real-time e-mail alerts include: Merkle, Movable Ink, L2, Classmates, Thompson Cigar, Sail Thru, Vera Bradley, BlueCore, eBags, and McKinsey.
And even more important to the company is that 93% of its current clients have renewed and/or upgraded with eDataSource.
CTO Chris Adams shared his thoughts on platform enhancement milestone achievements: "The first half of 2015 has been a whirlwind for our product development team. During this time, our Engineering team has continued to execute on our objective of being the premiere email inbox monitoring and competitive intelligence platform. We saw the release of six major new products: Inbox Tracker, Design Tracker, Realtime Alerts, Brand and Company comparison views, and our new real-time API. The speed at which our team can incorporate client feedback and feature requests into our platform continues to be one of the strongest work-values held by our engineers. Our greatest achievement so far this year has been the record high client satisfaction in our email intelligence and deliverability platform."
CMO Arthur Sweetser also rounded out the positive news with Marketing updates: "We are thrilled with our growing market acceptance as the premier email performance data provider and thought-leader for e-mail marketers. We spoke at Zeta Interactive event at eTail-East, We joined Relevancy Group CEO David Daniels for his panel discussion at the SalesForce/ExactTarget conference in NYC last June, and we work closely with DM News to provide timely and relevant email performance data, covering events such as Mother's Day, July 4th, and the recent Amazon Prime Day. We are also pleased to be the only data provider with custom reporting capabilities for our clients. Our new Strategy and Analytics Director, John Landsman, and his team, have delivered over twenty such newly formatted reports in just the past 90 days. And we have more coming in the fall."