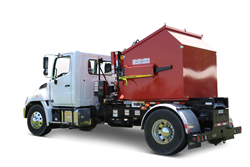 Galbreath's new SLCH loaded container handler offers a safer, more efficient, and more cost effective method of transporting, delivering, and placing front- and rear-load containers.
CHARLOTTE, N.C. (PRWEB) September 01, 2015
Galbreath, a Wastequip brand, and the waste industry's most trusted manufacturer of hoists, container handlers, and trailers, today announces the launch of the SLCH Loaded Container Handler. This dynamic container handler offers a safer, more efficient, and more cost effective method of transporting, delivering, and placing front- and rear-load containers.
Compatible with both CNG- and diesel-powered engines, Galbreath's new lightweight loaded container handler has a lower overall height, so it's ideal for areas with low overhead clearance, as well as container delivery in tight spaces or remote areas where larger trucks would be cumbersome. Plus, it's designed so the container sits level during transport, effectively minimizing trash spillage. The container bottom is fully supported by dual rails (with replaceable wear strips) for added safety and stability. The container's center of gravity is in front of the rear axle, maximizing overall weight distribution by putting more weight on the front axle, allowing for safe transport of loaded containers at highway speeds. The design also positions the container farther forward on the truck, keeping rear container overhang within DOT guidelines, so there's no need for flagging containers or using additional lighting due to illegal overhang in the rear.
The rotator mechanism of the Galbreath SLCH allows dumping of full containers. It can accommodate front-load containers up to 10 yards, or rear-load containers up to six yards in size, with hoist and rotator capacity up to 8,000 lbs. for front-load containers.
The SLCH loaded container handler is designed for improved safety and ease of operation with standard features that include:

Poly half-round fenders and container bumper stops
Inside-the-cab joystick controls for simple, one-handed operation
Plug-and-play wiring
Minimal container overhang in rear ensures visibility of rear bumper and LED lighting during transport, eliminating need for additional light bars or flagging
Pintle-ready apron
Ratchet retainer straps for added security with hauling front-load containers
Back-up alarm and hoist-up alarm with signal light on dash of truck
Two (2) lift cylinders for stability in operation
Two (2) tilt cylinders for mast stability while rotating
Direct-mount hydraulic gear pump
"Typically, a full-sized front-end-load truck wouldn't be used for transporting loaded containers," said John Defenbaugh, president of Wastequip's mobile products division. "Our new loaded container handler allows smaller trucks to be used for container pick-up, so it's easier, and safer, to get into smaller spaces or remote areas. Use of smaller trucks results in significant fuel savings and reduced emissions. Plus, we've improved the aerodynamic design with this new model to reduce drag, further reducing environmental impact."
"For more than four decades, Galbreath has been recognized for quality, durability, and long service life with every product we build. We pride ourselves on carefully listening to our customers, so we can focus on engineering new products that exceed the needs of the end-users who depend on our products day in and day out," Defenbaugh continued. "Galbreath's newest loaded container handler will stand up to the rigors of daily use in the safest, most reliable way possible – all while getting the job done faster, more efficiently, and more cost effectively."
Available options for Galbreath's SLCH loaded container handler include work lights, steel or aluminum fenders, frame-installed tool boxes, camera kits, pintle hooks, lid holders, platforms for transporting Toter® carts, and more.
The new Galbreath SLCH loaded container handler is available through Galbreath's extensive North American dealer network.
Photos can be downloaded at: https://www.flickr.com/photos/125087546@N02/albums.
###
ABOUT THE MOBILE PRODUCTS DIVISION:
Wastequip's mobile products division includes its industry-leading Galbreath, Mountain Tarp, Pioneer, and Cusco brands. The mobile division includes eight manufacturing and installation facilities in the U.S. and Canada dedicated to hoists, tarping systems, container handlers, and vacuum trucks. For more information, visit http://www.galbreathproducts.com.
ABOUT WASTEQUIP:
Wastequip is the leading North American manufacturer of waste and recycling equipment, with an international network of manufacturing facilities and the most extensive dealer network in North America. Wastequip's broad range of waste and recycling equipment and systems is used to collect, process and transport recyclables, solid waste, liquid waste and organics. The company's brands include Wastequip, Toter, Galbreath, Pioneer, Accurate, Cusco, Mountain Tarp and Go To Parts. For more information, visit http://www.wastequip.com.