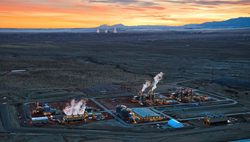 Our Stellar Energy turbine inlet air chilling solutions increase power output of gas turbines.
Jacksonville, Florida (PRWEB) September 02, 2015
Stellar Energy, a leading international provider of turbine inlet air chilling (TIAC), will supply a turbine inlet air conditioning system for Colorado electric utility Black Hills Energy's Pueblo Airport Generating Station in Pueblo, Colorado.
The project includes design, manufacturing, supply, and commissioning support for a TIAC system for the plant's GE LM6000 aeroderivative turbine. The TIAC enhancement will deliver an approximately 20-percent increase in power output for the plant during the heat of summer, when electricity usage is generally the highest. The project also involves the supply of a natural gas-fired heater system that will be used for turbine anti-icing operation during cold temperatures.
Stellar Energy has worked on two previous Black Hills Energy projects in Colorado, where the utility serves 95,000 electric customers. In 2010, Stellar Energy designed, fabricated and supplied two 3,800 TR turbine inlet air chilling systems for the Pueblo Airport Generating Station.
"We customize our turbine inlet air chilling systems to meet each client's specific requirements so they receive the single best solution for their power generation needs," said Alan Culpepper, General Manager, Stellar Energy Americas. "A repeat customer is a testament to our commitment to quality and individualized approach."
TIAC improves power producers' profitability by increasing a gas turbine's power output by up to 30 percent. By mechanically chilling the inlet air before it enters the compressor, TIAC gives the turbine a boost when it needs it most - in hot weather. In addition to increasing power output, TIAC improves the turbine's efficiency, decreasing heat rate and emissions.
Stellar Energy will fabricate the TIAC solution in its Jacksonville, Florida fabrication facility. Stellar Energy has designed, manufactured and installed TIAC systems on more than 125 gas turbines, delivering more than 2,000 MW of capacity enhancement. The company also has more than 1.2 million tons of refrigeration (TRs) installed worldwide.
About Stellar Energy
Stellar Energy's innovative energy plant solutions deliver cleaner, sustainable, cost-effective and more efficient energy. The company is a global leader in the design, fabrication, installation and operations of a range of energy solutions, including turbine inlet air chilling (TIAC) systems, district cooling systems, central utility plants and combined heat and power plants. The company's experience spans more than 20 years and stretches across the globe, with offices in the United States, Asia, and the Middle East and North Africa (MENA) region. For more information, visit http://www.stellar-energy.net.
Black Hills/Colorado Electric Utility Company, LP d/b/a Black Hills Energy
Black Hills Energy serves 95,000 electric customers in 21 southeastern Colorado communities. Black Hills Energy is a subsidiary of Black Hills Corp. (NYSE: BKH), a growth-oriented, vertically-integrated energy company with a tradition of improving life with energy and a vision to be the energy partner of choice. Based in Rapid City, S.D., the company serves 792,000 natural gas and electric utility customers in Colorado, Iowa, Kansas, Montana, Nebraska, South Dakota and Wyoming. The company also generates wholesale electricity and produces natural gas, oil and coal. Black Hills Corp.'s more than 2,000 employees form partnerships and produce positive results for our customers, communities and shareholders. More information is available at http://www.blackhillscorp.com.