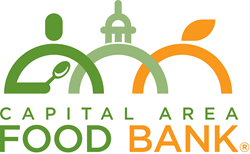 Lorton, VA (PRWEB) August 29, 2015
What:
The Capital Area Food Bank is kicking off September, Hunger Action Month, by inviting elected officials from the Virginia to spend time volunteering at the CAFB's Lorton, VA facility on September 1. Civil servants will pack and sort food for the CAFB's Senior Brown Bag Program, which provides healthy groceries to over 3,500 seniors per month. Attendees will also get a tutorial on the food bank's Hunger Heat Map, which is used to shed light on pockets of unmet need in the DC suburbs, and experience the Face Hunger™ workshop. The CAFB's mobile feeding bus, which provides free meals to children in Prince William County, VA, will be serving lunch for all attendees. For more information, visit http://www.capitalareafoodbank.org/northern-virginia-hunger-action-expo.
Who:

William Euille – Mayor, City of Alexandria, VA
Michael T. Futrell – Virginia House of Delegates, 2nd District
Joseph McGuire – Council member, Town of Occoquan, VA
Michele Leith – Office of Mark Herring, Virginia Attorney General
Penelope Gross – Vice Chair, Supervisor of Mason District, Fairfax County Board of Supervisors
Vivian Watts – Virginia House of Delegates, 39th District
Nancy E. Roman – President and CEO, Capital Area Food Bank
Cecelia Vergaretti – Director of Capital Area Food Bank's Northern Virginia Branch
When:
Tuesday, September 1, 2015
10 am – 2 pm
Where:
Capital Area Food Bank
Northern Virginia Distribution Center
6833 Hill Park Drive
Lorton, VA 22079
Why:
Over 217,000 people across Northern Virginia are at risk of hunger, including
62,000 children under the age of 18. Last year, the Capital Area Food Bank's Lorton facility distributed 6.5 million meals to individuals struggling with hunger. The CAFB provides individuals and families with nutrition education and outreach programs designed to address the root cause of hunger.
Visuals:
Local dignitaries giving back to the community by volunteering to pack grocery bags for seniors