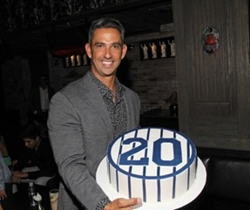 Jorge Posada is one of the greatest catchers in the history of the game and absolutely is deserving of the honor of having his number retired by the most storied franchise in sports history
New York, NY (PRWEB) August 30, 2015
ACES Inc. Baseball agents Seth and Sam Levinson paid tribute to their longtime client Jorge Posada with an intimate party at Tao Downtown Lounge on Friday, August 21 in honor of his number retirement by the New York Yankees. The low-key event, attended by close friends and family, included two of Posada's most famous teammates, Derek Jeter – accompanied by girlfriend Hannah Davis – and Tino Martinez.
At the end of the night, Posada was served with a pinstriped cake, complete with jersey No. 20. The former Yankee humbly thanked friends and family for their support and contribution to his career success.
"Jorge is one of the greatest catchers in the history of the game and absolutely deserving of the honor of having his number retired by the most storied franchise in sports history," said baseball agent Seth Levinson of Posada.
"Our celebration was not just to honor Jorge's great career as a warrior on the field but also to embrace the fact that he is a caring, giving and charitable man off of it," added baseball agent Sam Levinson.
In his brilliant, 17-year career – entirely with the Yankees -- Posada won five World Championships, made five All-Star teams, hit 275 home runs and drove in 1065 runs. His career on-base percentage (.374) and OPS (.848) rank among the greatest marks by a catcher in MLB history.
ABOUT ACES INC.
ACES – Athletes' Careers Enhanced and Secured – has represented professional baseball players for over 25 years. Founded by Seth and Sam Levinson, ACES is dedicated to handling players and their careers with expertise offering services that encompass career demands both on and off the field. The agency, a full-service company, expertly handles negotiations for the full-range of player contracts, from Draft bonuses to Minor League, pre-arbitration and free agent deals. ACES, which has managed more free agent multi-year deals since 2007 than any other agency in the industry, sets itself apart from other agencies in its dedication to work ethic and integrity.
ABOUT JORGE POSADA
The Puerto Rico-native played 17 seasons in Major League Baseball for the New York Yankees. The five-time All-Star and four-time World Series champion earned a reputation as a solid-hitting catcher. Posada is the fifth MLB catcher with at least 1,500 hits, 350 doubles, 275 home runs and 1,000 RBIs in a career.