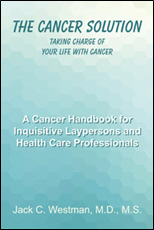 A Must Read
Madison, Wisconsin (PRWEB) August 31, 2015
According to book reviewer Angie Santangeloon, Dr. Jack Westman's book The Cancer Solution: Taking Charge of Your Life with Cancer is an excellent resource for everyone since one in three persons will have life threatening cancer.
Ms. Santangeloon found The Cancer Solution to be helpful in explaining what cancer is in a easy to understand medically accurate way. The book builds the basis to understand what you need to know when you are considering treatment options and daily living options. It is also a helpful guide to the evolution of cancer treatments. The historical context helps to understand how to analyze treatment options.
This book presents the evidence that is constantly building that shows how our immune systems can be strengthened to prevent and control cancer. It helps to provide hope and show how persons can have control in a situation where they are led to believe they have no control. This book is a practical guide to get persons started on the journey to being empowered to take control of their own medical conditions.