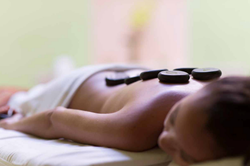 We pride ourselves on helping to improve the fitness and overall wellbeing of our guests. --Owen Perry, co-owner and president of Villa Group
Islands of Loreto, Baja California Sur, Mexico (PRWEB) August 31, 2015
Villa del Palmar at the Islands of Loreto, Baja's first "million star" resort, is thrilled with the addition of an in-house shaman, also known as a "medicine man," to lead ritual blessings, sensorama sessions and healing consultations as part of its Sabila Spa Signature Wellness Program.
 
"Our holistic approach is designed to tune-in on the physical, emotional and spiritual levels, allowing an organic healing process to naturally unfold," said Claudine Riemer, director of the resort's Sabila Spa and Wellness Center. "Villa del Palmar at the Islands of Loreto guests will be able to activate and nurture new healing paths by honoring their highest potential."
 
The latest installment of the resort's Wellness program is inspired by the shaman way of life, which practices divination and healing, as well as encourages guests to nurture harmony with the spirit, with the environment and with one another.
Shamanism is an ancient healing tradition and a way of life. The teachings of shamanism focus on the connection to nature, as well as promote the well-being of all creation. Essential aspects of shamanic life include journeying, ceremony, and sacred dances, among other practices.
The 39,000 square-foot award-winning Sabila Spa, which means "Aloe Vera" in Spanish, embraces holistic therapies that are known for balancing one's mind body and spirit, along with traditional European spa treatments.
 
"We pride ourselves on helping to improve the fitness and overall wellbeing of our guests," said said Owen Perry, co-owner and president of Villa Group. "The holistic experiences we offer here are truly one-of-a-kind."
 
The resort is offering an all inclusive wellness package that provides the perfect opportunity to rest and restore while satiating curiosity for yoga and meditation at a location best known for its tranquility, natural beauty and abundant sea life. 
Starting at $208 per person, per night, based on double occupancy, the rejuvenating retreat includes a four-night stay in a Deluxe Studio suite, daily healthy cuisine and beverage in the resort's gourmet Market and Casa Mia restaurants, juice therapy to ease ailments, and holistic activities. The offer is valid when guests book and travel now through December 20, 2015. A seven-night package is also available.
After kicking off the journey with a welcome seated massage and a hand washing ritual to wash away stresses, guests can partake in a healing rituals with the resort's new resident Shaman, who is known for holistic rituals and treatments, such as Janzu aquatic therapy, traditional Mexican medicine derived from natural healers, Ashtanga yoga, and more.
Holistic sessions included in the package are healing water sessions, in which guests learn how to flow freely and clarify their lives, sensorama, which offers a unique experience focused on getting back in touch with nature and guests' senses, and an aloe vera ritual to soothe the skin.
 
The resort also offers everything from mud detox treatments to ritual blessing, and earthing to balance stone massage.
 
Travelers can take a short flight from LAX on Alaska Airlines or from Calgary, Canada aboard WestJet, Canada's most-preferred airline, with increased service starting in February 2016.
 
For resort reservations or additional information, please contact the resort at reservaciones.vdpl(at)vgloreto(dot)com or call 800.790.4187. To learn more about Villa del Palmar, contact your preferred travel professional, visit http://www.villadelpalmarloreto.com or call the number above.
About Villa del Palmar at the Islands of Loreto: Baja's First Million Star Resort
Villa del Palmar at The Islands of Loreto is a luxury destination resort on the Sea of Cortez, off the eastern coast of the Baja peninsula overlooking Danzante Island (one of five in the region). Flanked by the rugged Sierra de la Giganta range, the Villa del Palmar is the first and only resort to occupy one of the Gulf of California's last virgin coastlines. The resort features 181 new, spacious, beautifully appointed Deluxe Ocean View, one, two and three bedroom Suites with terraces and stunning ocean and mountain views, three restaurants offering gourmet dining, an attentive English-speaking staff, five swimming pools, a 39,000 square-foot Sabila Spa and Wellness Center, two tennis courts, beautiful beaches, a private beachfront Danzante Bungalow and a mild and warm climate year-round. The 7,400-yard Rees Jones-designed Danzante Bay golf course opening October 2015 will offer a challenging, yet friendly course that works with the natural beauty and serenity of the surrounding environment.
Guests can enjoy PADI-certified SCUBA diving lessons and snorkeling tours in the protected indigo waters that explorer Jacques Cousteau once dubbed the "Aquarium of the World." Outdoor adventurers can also experience tours of the nearby Coronado, Danzante and Del Carmen Islands atop an inflatable APEX boat, as well as swimming, world-class fishing aboard the "Mad Dash" tournament boat, paddle boarding, kayaking, whale watching and mountain biking. With complimentary shuttle service, guests can explore the historic town at the Islands of Loreto and visit the 1697 mission that made the town famous. The area is also known for its wildlife, including the 900 species of fish off the coast and in an area that has been designated a UNESCO World Heritage Site and the second largest National Marine Park. Hotel perks include a spa and fitness center, massages, salsa dance lessons and movie nights for children. Travelers can take a short flight from LAX on Alaska Airlines or from Calgary, Canada aboard WestJet, Canada's most-preferred airline, to the Islands of Loreto.
The resort is also currently named the 16th best resort in Mexico by Trip Advisor and a nominee for "Mexico's Leading Beach Resort" in the 2015 World Travel Awards.
For additional information on events, amenities, or availability call 800.790.4187 or visit http://www.villadelpalmarloreto.com. Stay up-to-date on the latest happenings by finding us on Facebook (http://www.facebook.com/villadelpalmarattheislandsofloreto) or Instagram, Pinterest and Twitter as @VilladelPalmarL.