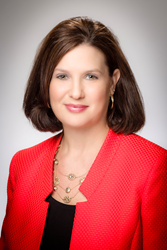 Dayton, Ohio (PRWEB) August 31, 2015
CareSource, a nonprofit Ohio-based health plan, has named Jenny Michael as Vice President, Marketing and Corporate Communications. In this capacity, Michael will provide strategic leadership for CareSource's marketing, branding, corporate communications and media relations.
CareSource is an industry leader in consumer-focused programs that have contributed to the company's rapid growth. As the CareSource business model expands to incorporate new product lines and markets, Michael will set the overall strategy and direction to generate demand for the company's new and recognizable brands and will lead the elevation of the company's local, regional and national profile. As CareSource continues to experience unprecedented growth into new markets, Michael will maintain a focus on high member satisfaction and quality.
"Jenny has a broad background in strengthening brand reputation and visibility," says Jon Allison, CareSource's Executive Vice President, External Affairs. "She is a highly accomplished marketing and communications professional with a proven track record of leading marketing and communication development."
Michael has been with CareSource for five years as Director of Public Relations and Corporate Communications. She has nearly 20 years of experience in public relations, market planning, advertising strategy and event management. Previously she worked at The Berry Company as Director for Marketing and Communications. A graduate of The Ohio State University, Michael is currently running for her third term on the Valley View Board of Education.
About CareSource
CareSource, a leading, member-centric, regional nonprofit health plan headquartered in Dayton, Ohio. One of the nation's largest Managed Medicaid plans, CareSource serves more than 1.4 million consumers in Ohio, Kentucky and Indiana. CareSource is living its mission to make a difference in our members' lives by improving their health and well-being. CareSource understands the challenges consumers face navigating the health system and works to put health care in reach for those it serves.