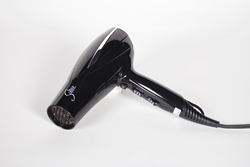 Westlake Village, CA (PRWEB) August 31, 2015
Sultra Corporation, maker of high quality women's hair dryers, irons, hair care liquids and accessories announces a new powerful, yet lightweight hair dryer for hair care professionals and consumers.
The New AirLight 1875-Watt Dryer features a powerful motor, lightweight construction for speed and ease of use.
"The key to the new AirLight is much more than a powerful motor and lightweight construction. This amazing and elegant tool offers Ionic Technology for smoother, healthier, shinier hair by creating negative ions that penetrate the cuticle and infuse moisture directly into the hair shaft," said Dana Story, CEO of Sultra Corporation. "In addition, the AirLight created infra red rays from the ceramic heating element to help close the cuticle, locking in the moisture and reducing frizz for a smooth, shiny finish."
About Sultra
Sultra Corporation is headquartered in Westlake Village Ca. They specialize in high quality hair products and tools for hair care professionals and businesses worldwide. Their products are also offered to the general public via their E-Commerce enabled website, Salons nationwide and in many retail outlets specializing in hair care and beauty products. Sultra products are used by thousands of hair care professionals and their products have been highlighted in countless international beauty publications.
For more information about Sultra Corporation visit http://www.Sultra.com or call 877.278.5872. Sultra Corporation 31225 La Baya Drive, Suite 100, Westlake Village, CA 91362
About GoMarketing
Over the past nine years, GoMarketing has constantly endeavored to understand the Internet marketing landscapes as it changes practically daily. They offer Online Advertising, Internet Optimization, Social Media Optimization, E-Commerce solutions, Software Design and Development, Website Design and Development, and a host of services to provide our Clients with the best programs to meet their goals.
For more information about GoMarketing visit http://www.GoMarketing.com or call 866.736.1232.