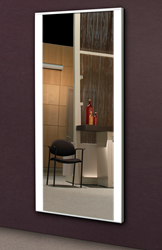 MINNEAPOLIS, MINN (PRWEB) September 02, 2015
Stylmark, a leading designer and manufacturer of commercial and retail fixtures, today revealed the Admire LED Mirror which combines budget-friendly design with flattering soft white LED lighting to a full length mirror perfect for fitting rooms.
The simple styling will fit with almost any decor. With the compact depth of the Admire LED Mirror, fitting into your smaller rooms won't be a concern. Complement the fitting room experience and ease the buying decision with Stylmark's Admire LED Mirror.
Equipped with high-quality ¼" mirrored clear glass with Category 1 safety backing and 3000K soft white LED lighting, the Admire LED Mirror is a full-view mirror that is easy to install. Installers will delight in the straightforward wall mount design as well as the convenient lift and drop installation of the mirror. The Admire LED Mirror is standardly available with 28"x60" mirrored glass and white powered coat finish.
"At every level, retailers can benefit from outfitting their fitting rooms with full-view mirrors and effective lighting," says Kevin Hogan, President of Stylmark. "The Admire LED Mirror provides those benefits in an elegant, cost effective way," added Hogan.
For more information about Stylmark & Admire LED Mirror, http://www.stylmark.com/solutions/admire-led-mirror or call 877-866-3033.
About Stylmark
Founded in 1954, Stylmark is a leading designer and manufacturer of finished fixtures and full solutions – from aluminum and steel products, to LED lighting, showcases, fitting rooms, shelving, kiosks, architectural moldings and more. Stylmark's extensive inventory of stock and custom products and solutions are designed to work together, creating comprehensive and distinctive lifestyle environments. For more information about Stylmark, visit http://www.stylmark.com.