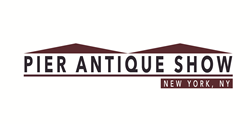 New York, NY (PRWEB) September 03, 2015
U.S. Antique Shows announced today that the Pier Antique Show, New York City's largest antiquing event, will return this Nov. 14-15 to Pier 94. The show will feature more than 300 exhibitors showcasing tens of thousands of unique and beautiful items.
The show's producer is also demonstrating their commitment to the antique industry by offering discounted admission to the Pier show. Tickets will be reduced from $20 to $10.
"The decision to offer discounted admission was made to attract and retain new buyers, which is necessary for the ongoing success of every show. Therefore, our goal is to re-engage those that have not attended the show recently as well as attract new clientele who are unfamiliar with antiques and all that they have to offer," says Dan Darby, Emerald Expositions vice president and U.S. Antique Shows general manager.
The Pier Antique Show has been must attend shopping destination and a staple in New York for nearly 40 years. With categories ranging from classic and formal antiques to modern and vintage designs, this event's versatility attracts a diverse audience, including novice and serious collectors, interior designers, fashion experts and society's elite. In addition, Fashion Alley, one of the show's most popular sections, boasts an incredible variety of vintage clothing, jewelry and handbags that provides a truly fun shopping experience.
The show will again be hosting Appraisal Day during the show on Nov. 15 from 11 a.m.-4 p.m. In partnership with Skinner Auctioneers & Appraisers, all attendees, with a valid ticket to the show, are invited to bring one item to be appraised for free by one of Skinner's expert appraisers. Each appraiser will provide an unbiased, expert opinion of the attendee's collectible or antique. Attendees are encouraged to schedule an appointment in advance by visiting the show's website to guarantee time with an appraiser. For more information, visit http://www.pierantiqueshow.com/show/special-events/.
On Nov. 14 and 15 at 3 p.m., the show will be hosting two education series open to all attendees. Paul Doros, president of the Art Glass Forum in New York, will be speaking on "The Art Glass of Louis Comfort Tiffany" on Saturday. Lindsy R. Parrott, director and curator of The Neustadt Collection of Tiffany Glass, will be speaking on "An Illuminating Look at Tiffany Lamps."
New show times for fall 2015 are Saturday, Nov. 14 from 11 a.m. to 7 p.m. and Sunday, Nov.15 from 11 a.m. to 6 p.m. For more information about the show, call 239.732.6642 or visit http://www.PierAntiqueShow.com.
About U.S. Antique Shows
U.S. Antique Shows, producer of the industry's most anticipated events, serves the unique needs of the antique and antique jewelry marketplace with shows in Las Vegas, Los Angeles, Miami, Miami Beach and New York. The group's events offer a broad range of antiques as well as antique, vintage and estate jewelry and watches, and annually draws more than 50,000 consumers and 3,000 dealers from 28 countries worldwide.
U.S. Antique Shows is a division of Emerald Expositions, North America's largest owner and operator of business-to-business and consumer tradeshows. The company's jewelry portfolio is comprised of trade and consumer events including the U.S. Antique Shows division, Couture, JA New York (Summer and Winter), and JA Special Delivery.
For more information, visit http://www.USAntiqueShows.com, like us on Facebook: Facebook.com/PierAntiqueShow, follow us on Twitter: @USAntiqueShows and explore our Pinterest: Pinterest.com/USAntiqueShows. Check out our new blog at blog.usantiqueshows.com.