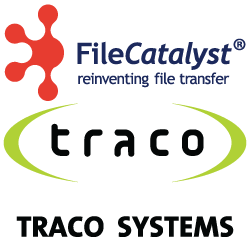 "We are proud to be able to offer FileCatalyst to Czech Television," said Michal Popela, Director of the Prague Office at Traco Systems. "We pride ourselves on providing technologies that enable the most efficient workflows for our customers, which is one
Ottawa, Ontario (PRWEB) September 02, 2015
Unlimi-Tech Software, Inc., an Emmy® Award-winning pioneer in managed file transfers and creator of FileCatalyst, announces today that their value added reseller agreement with Czech Republic based Traco Systems has resulted in FileCatalyst being used by Czech Television.
Traco Systems has partnered with FileCatalyst to provide the latest in broadcast technology to their media industry clients looking to increase the speed of file transfers without compromising reliability or security. The FileCatalyst platform is immune to packet loss and latency while transferring large files over geographically separated locations, a necessity for Traco's customers who work mainly in broadcasting and post-production. With the size of media files skyrocketing, transfer methods such as FTP are unable to keep up, but FileCatalyst guarantees the transfer of any file, of any size, at speeds of up to 10 Gbps.
One of Traco Systems' clients is Czech Television, the public television broadcaster in the Czech Republic, which broadcasts six channels, including a 24-hour news channel, a sports channel, a children's channel and more. Established in 1992, Czech Television serves to inform, as well as broadcast original programs for all target groups in the Czech Republic. Drawing on sixty years of experience, Czech Television produces superb quality in a rich variety of genres.
Czech Television had the need to transfer large video files, mainly distributing movie files, as well as production materials with cooperatives. Czech Television chose to use FileCatalyst to send their files fast, since it is a cost-effective solution which allowed them to build their own workflow around the core file transfer technology.
"We are proud to be able to offer FileCatalyst to Czech Television," said Michal Popela, Director of the Prague Office at Traco Systems. "We pride ourselves on providing technologies that enable the most efficient workflows for our customers, which is one of the reasons we chose to partner with FileCatalyst."
"Partnering with Traco Systems has allowed FileCatalyst to reach more end users across the globe," said Alan Atkinson, Unlimi-Tech's Vice President of Business Development. "We are thrilled that Traco Systems has been able to provide Czech Television with our patented file transfer solutions."
About Unlimi-Tech Software, Inc.
Located in Ottawa, Canada, an Emmy® Award winning pioneer in managed file transfers, Unlimi-Tech is the creator of FileCatalyst, a world leading accelerated file transfer solution. Founded in 2000, the company has more than one thousand customers in media & entertainment, energy & mining, gaming, and printing, including many Fortune 500 companies as well as military and government organizations. FileCatalyst is a software platform designed to accelerate and manage file transfers securely and reliably. FileCatalyst is immune to the effects that latency and packet loss have on traditional file transfer methods like FTP, HTTP, or CIFS. Global organizations use FileCatalyst to solve issues related to file transfer, including content distribution, file sharing, and offsite backups. To learn more visit http://www.filecatalyst.com or on Twitter @FileCatalyst.
About Traco Systems
Traco Systems is a company that specializes in the implementation and system integration of digital technologies with a focus on broadcast and post-production. Offering comprehensive solutions, from analysis and process design, to actual installation, training, and service support. To learn more, please visit http://www.tracosys.cz.